I found the best way to Rent a Car worldwide which I want to share with you. Not only is it the best way to rent a car, it's also the cheapest. It's just a simple Avis coupon code that works wonders when it comes to bumping the price of your car rental down. And given that Avis have offices worldwide – virtually in any country where car rentals are possible, this little trick can hook you up with well maintained vehicle for a great price.
I found out about it as I was looking for the ways to rent a car in Iceland but was not willing to pay $1,000+ for a ten day rental. Iceland is a very expensive country and it's reflected in prices of their car rentals. I wanted to make the best out of my 10 day trip so in order not to waste time waiting around for buses and to be able to also access more remote places, I saw car rental as the best solution. But since it's so extremely expensive to rent a car in Iceland, I had to work out some magic and find a solution that would hook me up with a car, but prevent me from spending more than a grand for it.
To make a long story short, my research has eventually lead me to the Avis coupon code which can cut the normal price down to near one half of it. It worked in Iceland, it worked in the Dominican Republic, it worked in Canada and will likely work in most destinations where Avis has their offices. How much discount you will get varies from one country to another but I have not found any better way to get less expensive, yet internationally backed up car rental since.
To get to the best way to rent a car, go to Avis.com and select your country of origin from the Country/Language drop down menu (or you can go directly to Avis.ca if you are Canadian). Choose your date and time for pick up and return and then choose your pick up location. This is all pretty standard stuff that will get regularly priced quotes. In order to get much better prices, you need to enter following code in the AWD (Avis Worldwide Discount code) field:
K444404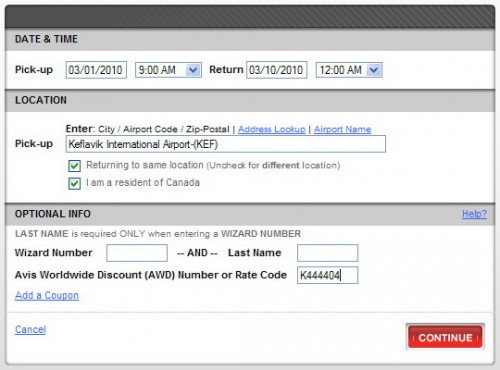 Previously normal car rental prices will now be slashed into much more attractive level. I have never seen car rentals for better price than when using Avis with this code. Good thing is, that after three different rentals in three different countries using Avis and this discount code, I have never been asked any questions. Nothing. You just paste it in the AWD field and make a reservation. Car will be waiting for you at your chosen location and when you return it, you will be given the receipt with the price you were quoted by the website and that price will be charged to the credit card you have provided the Avis representative with when you were picking your car up. It worked for me in Iceland, it worked for me in Canada and it worked for me in the Dominican Republic. No questions asked. None whatsoever.
Then again, given Avis' international reputation, I would not expect anyone ever questioning the code or where you got it from. Avis are in it to be a worldwide leader in car rental services. They want your business and will be glad you have chosen them over a competitor. It's none of employee's business to question where you got which code from. But most of all, they are there to provide you with a reliable car and process your pick up and return in a courteous and professional manner. They are not booking agents so chances of anyone at the pick-up location questioning the code are virtually nonexistent. Based on my experience so far it is exactly like that but if you think about it, I don't see how it could possibly create an issue at pick up location so I believe you can safely use the code and enjoy the benefits of great rental prices.
And remember – don't worry about feeling guilty. Avis is a multimillion dollar company. You are bringing them business that's profitable for them any way you spin it. The fact that you are not paying the normal price does not mean that you are ripping them off. Far from it. You are just being a smart renter and paying a price that's fair, not a price that other's who don't do their homework have to pay. Each time I see people paying retail prices for travel and tourism related goods and services, I quietly laugh on the inside knowing that I saved myself from being overcharged.