As it was getting closer to noon hour, the temperature grew into an unbearable level. The humidity was also at an extreme high which combined with scorching heat made for a tough environment. I had my camera on me so I thought I was gonna take more walk around Siem Reap to get to know the town and snap some pictures while I'm at it. I walked around Old Market and slid across the Pokambor Avenue to stay under the trees surrounding the Siem Reap River.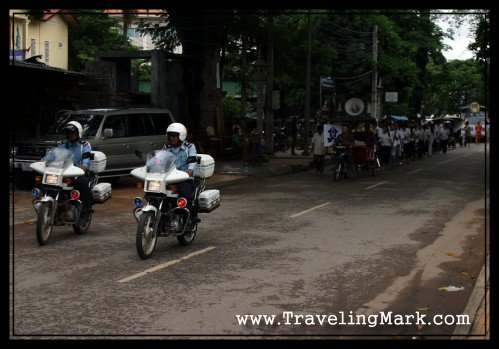 As I was slowly walking back towards the Wat Bo Bridge I noticed a large procession marching down the road towards me. The procession was still in a distance so I was unable to recognize what exactly was going on. The music that accompanied the procession was quite loud, played out from an old school loud speaker placed atop a Tuk Tuk and consisted mostly of a piercing gong sound melancholic flute. As the crowd got closer to me, I have realized that this was a funeral and these people were accompanying the deceased to his final resting place – at that time I was not sure whether they had graveyards in Cambodia and if so, what they looked like and where they were located.
This small funeral procession was escorted by the police on motorcycles, but this was the least noticeable difference between western funerals and Buddhist ones in Cambodia. Aside from really loud music played out from a really old, bad quality loudspeaker, I have noticed that no one in the crowd was crying. I wasn't sure whether this had anything to do with Cambodians being strong and not showing emotions so they don't lose their face (face is an important part of human body and "losing one's face" is a big shame – one could lose face by crying over a punishment) or whether death of person is celebrated, rather than grieved.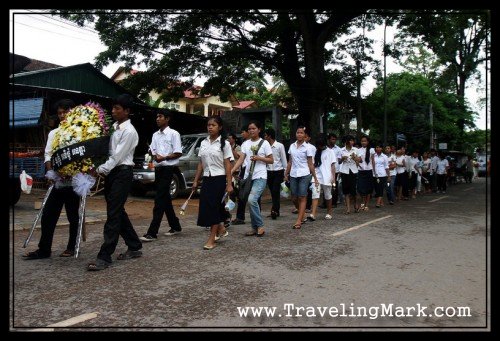 I have also noticed that virtually all members of the funeral procession were dressed in white. The monks wear their orange robes, which are their day to day attire no matter the occasion, but aside from monks, everyone was wearing white, or light blue shirt. Pants of men and skirts of women ranged in colors but white was definitely the most dominant color. Given that this was a funeral procession, this was a big and easily noticeable difference between Cambodian and Western funerals. Western funerals would be definitely dominated by black color and the loudest sound would be crying, not music.
Not knowing proper etiquette, I did not follow, nor stare at the funeral procession. I snapped a few quick pictures and let them continue on their way wherever it was they were heading. The cultural, societal and religious differences between the world I have known so far and that of South East Asia were apparent on every step and I have enjoyed having my mind expanded that way. I felt like I was getting more sophisticated and knowledgeable by the minute and that was a very rewarding feeling. You can hear about something a thousand times, but it is not until you experience it and become part of it when you start to appreciate it and grow as an individual.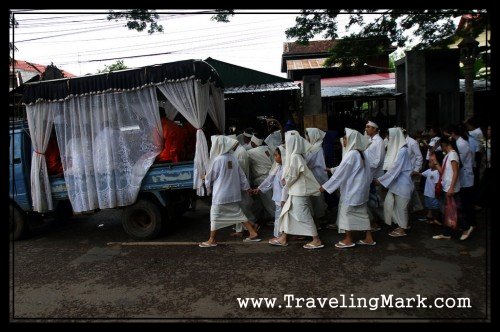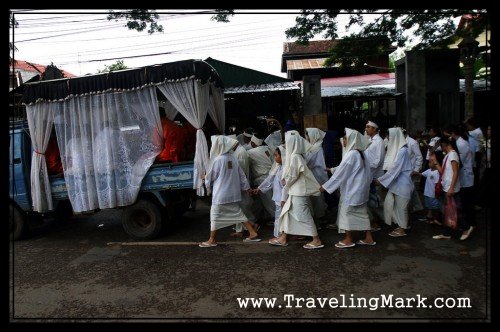 RELATED GALLERY:
Buddhist Funeral Procession Photo Gallery