I got to the Terrace of the Leper King by following the north wall of the Royal Palace area as I was running away from gnarly Cambodian males preying on foreigners who wander off the beaten track. The Terrace of the Leper King got its name from the genitals lacking statue of Yama – the God of Death, resembling king Jayavarman VII known to have suffered from leprosy (according to the legend, leprosy was the reason why this king built so many hospitals. Khmer people believe that he was not the only king suffering from this disease). Because some layers of the statue got eaten away by lichen, it created an illusion of a person affected by leprosy. The original statue which dates back to the 14th – 15th centuries is no longer on the terrace. It was removed to secure its preservation and is currently located at the National Museum in Phnom Penh, the capital of Cambodia. This was a good idea as the cement replica has already been decapitated.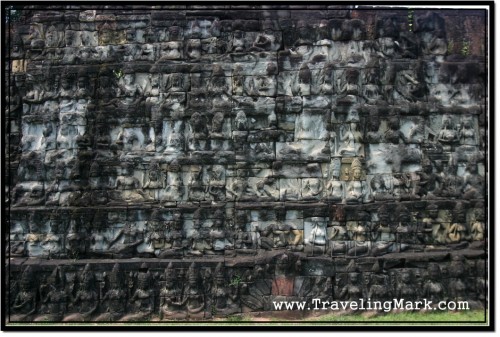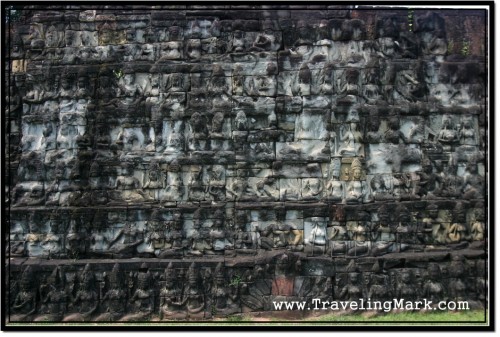 Terrace of the Leper King contains extensive carvings on its walls depicting various divine and underworld characters. It is believed that the Terrace of the Leper King was used for cremations or other funerary purpose and was probably built by Jayavarman VIII who succeeded Jayavarman VII, the builder of Angkor Thom.
The walls of the Terrace of the Leper King are 6 meters (19 feet) high and have the carvings on them arranged in seven rows. The mythological scenes include five, seven and nine headed naga serpents accompanied by marine creatures (including mermaids) and several rows of gods often bearing rather ferocious looks on their faces.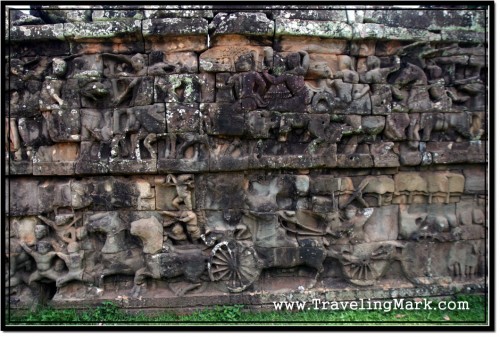 Terrace of the Leper King is a standalone structure in a seemingly desolate state that's easy to ignore so a visitor can move on to something more interesting, but there is more to the terrace than meets the eye – it's the hidden wall. South west corner of the terrace contains narrow entrance to the trench that takes you through a zig-zag path containing its own bas reliefs. This secret passage is the collest thing about the Terrace of the Leper King and should not be missed by any visitor.