One of the biggest understandings I gained during my life as a recluse in the Canadian wilderness was the understanding of poverty. It offered me an interesting insight into what poverty really feels like and how one can deal with it because during the course of my stay in the wilderness, I was the poorest man in the world.
The Poorest Man In The World
I had nothing. I had no roof over my head, no food to put into my mouth, no access to healthcare of community support, no outlook to have anything ever come my way and zero chance of anyone turning up to support me with a donation or a handout. If there is any such thing as being absolutely poor, this was it.
I was as on my own as they get. It was as if the whole world turned its back on me – as if I was discarded, banished by the mankind. No longer relevant, an obsolete, surplus human being… I ignored them and they ignored me, I abandoned them and the abandoned me. I was all alone, the poorest man in the world, the world that didn't even notice I went missing.
Yet despite the realization that I have just become the poorest man in the world, I didn't feel vulnerable. If anything, I felt empowered. Poverty, as I found out, can be the most debilitating as well as the most liberating experience ever. I started to understand the statement by Henry David Thoreau who said that "A man is rich in proportion to the number of things he can afford to let alone".
I left absolutely everything alone. Everything. I was left with nothing, I was the poorest man in the world, yet I've never felt so rich in my life. No longer teased by what other people owned, I was able to focus on providing for my immediate needs. There was no temptation to obtain designer clothes, wave shiny cell phone in everyone's face or eat in a poshy restaurant. Because there was nobody to judge me, I didn't have to do or own anything to conform to society's expectations. I was able to be me.
I owned absolutely nothing, except from absolutely everything I needed to feel alive – I owned the air I needed to breath, I owned earth below my feet I needed to walk on, I owned the sound of silence that overwhelmed my senses with deafening intensity, I owned the view of the billion stars that shone so brightly I might as well have floated through the universe with them. I was so poor, I felt like the richest person in the world.
The Definition of Poverty
While there are several ways to define poverty, let's take a look at the most common ones:
On a social level, poverty is often understood as a lack of items essential for proper living – these typically include food, safe drinking water and shelter. UN's Copenhagen Declaration further clarified this stance by defining poverty as a condition characterised by severe deprivation of basic human needs, and aside from the above mentioned items, also listed sanitation facilities, health, education and information as items the lack of which defines poverty.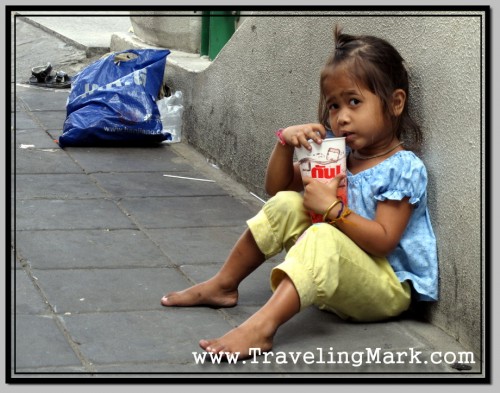 In absolute numbers, poverty threshold is typically set to $2 per day or less, however this doesn't take into an account the ranking of each individual country as a whole and its income vs consumption ratio. While generally disputable, the $2 poverty threshold is still used as a reasonably accurate measurement of absolute poverty.
With these widely recognized definitions of poverty in mind, I found that severe deprivation of basic human needs I was faced with when I lived as a recluse in the wilderness fit the definition of poverty as tightly as a behind fits on a toilet seat – I was the poorest man in the world:
I lived without access to food, shelter, safe drinking water, sanitation facilities, health care, education, information and many other basic human needs. Heck, I even lived without access to human touch and companionship – two human needs deemed essential for maintenance and development of sound mental health.
Poverty vs Greed
Whether the whole world abandons you and leaves you all alone and vulnerable to face what may come with your bare two hands, or whether you leave the whole world to stand all alone and vulnerable to face what may come with your bare two hands, the outcome is the same – there is no one in the whole world who would help you out.
And that was where I found myself – the poorest man in the world. I could have been a man born into absolute poverty. I could have been a man who wasn't born poor, but lost everything. I could have been a man who had someone with more money run him to the ground and force him into bankruptcy. I could have been a man who was taken advantage of, or a man who despite genuine hard work was simply dealt crap hand and ended up hitting the rockiest of all bottoms.
So I withdrew into the wilderness to realize that an option to live a simple life exists for everyone. Anyone could be as poor as I was and live as fulfilling life in the wilderness as I did. The trouble is that most people who deem themselves poor are so attracted by the vision of owning things they could do without if they lived in the wilderness, they don't entertain this option and instead choose a life of greed.
The Real Poor
It's fascinating how we tend to determine poverty by people's status within the society. Uncontacted tribes, or people from self sustaining communities living in isolated areas are not perceived as poor. Their account balance is at solid $0, their lifetime savings are at solid $0, their credit rating is nonexistent, their net worth is next to none, they receive no unemployment benefits, no insurance, heck they don't even have any chance at income, yet they're not poor. At least they don't see themselves as such and we the outsiders don't perceive them this way either. We simply accept that this is their way of life which they are happy and content with.
So who are the people we do consider poor? Are people who live on $2 or less – as defined by the World Bank the real poor? Cause if they are, then they have a whooping $2 a day more to live on than I had when I lived in the wilderness, or what uncontacted tribes people live on yet neither me nor primitive tribesmen are considered poor. Isn't that somewhat ironic and illogical?
I had nothing, I went into the wilderness and started from zero to survive naked in the wild. Because I lived on $0 a day, and you can't divide by 0, I would not fit the profile of a man living below the poverty line. But if I stayed within the civilized world and whined that I couldn't buy the latest Iphone because I was only earning $2 per day, I would be considered poor.
Poverty in the Third World Countries
21st century life makes living in the wilderness very challenging, but not impossible. I kept asking myself why all those people who scream bloody murder because they are poor wouldn't instead pull away from civilization and do exactly the same thing I did. Most countries considered poor are within tropical climates which makes both withdrawal into the wilderness and survival within it much easier.
In countries like Canada there are many loopholes and roadblocks limiting what a person can engage in in the wilderness – most third world countries don't have any such legislations in place allowing for far less restricted hunting and fishing in the wild. Furthermore, in countries like Canada, in order for one to survive in the wild, he/she would have to spend considerable amount of energy building super tight, weather proof shelter. Whereas in most third world countries, which tend to be located in tropical regions, weather proofing a shelter can take as little as building a simple roof from bamboo sticks covered with banana leaves.
If it's this uncomplicated to survive with nothing in the third world countries, then why so many people choose to stay in the industrialized areas and live in subhuman conditions when abundant life away from civilization is so accessible and unrestricted to them? There really is no better way to answer it than by calling out "greed". They covet what they see and want it. They covet the house rich people have, they covet the car rich people have, they covet the cell phone rich people have, they covet the vacations rich people take… they covet things they don't necessarily need to experience plentiful and abundant life. Just ask people from uncontacted tribes.
Greed truly is a bad master. I lived without any of it, so I know. I lived without fancy house, without a car, without a cell phone, without poshy dinners, without designer clothes, without jewelry – I lived with nothing and my life was fulfilling. My vacation consisted of a walk across the marshland to reach the distant lake, the roof over my head was a pile of dried leaves I collected from the forest floor. If you desire more than that, if you're willing to doom yourself to subhuman life in order to chase the dream of one day owning that big house, shiny car, latest Iphone or Nike shoes, then poverty is your own fault. Then it means that you are poor because of your own greed to desire more than you need and that puts you in a disempowered position which allows others to take advantage of you and keep you the way you are – poor.