The very first thing you notice upon your initial encounter with native Cambodians is that they are extremely pushy and aggressive. The very second thing you notice is that Cambodians are extremely rude and take great joy at making tourists feel uncomfortable. They take great joy at other people's misfortune and/or suffering regardless of whether they are foreigners or fellow Cambodians, but the joy of laughing at foreigners and making them feel uncomfortable with purposefully loud remarks aimed at their person is a double score.
You know the "10 points" joke we make in western countries? It refers to the GTA style computer games and you use it while driving. If you're on an open road with no other vehicles ahead of you and an elderly person comes grinding slowly across the road, you make an inappropriate remark that you have "10 points" right ahead of you. It implies that if you floored the gas pedal and pancaked the elderly, you'd earn yourself sweet-arsed 10 points. As it goes, if it's an elderly person with a walker that crosses the street, then you're looking at scoring mighty "15".
Something of that sort happens as a daily routine among Cambodians. Locals of this country are the laziest people in the world who refuse to go to work and instead spend their entire days bored out of their minds, sitting on their motorcycles, killing time by entertaining themselves any way they can. But by just sitting outside with nothing to do, their only source of entertainment are people who come into view.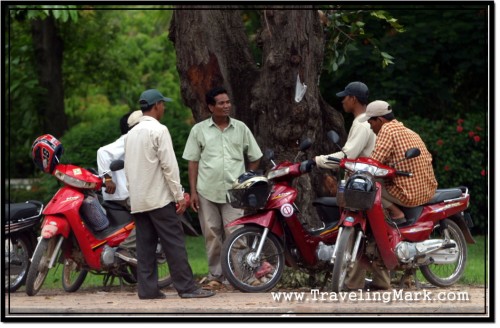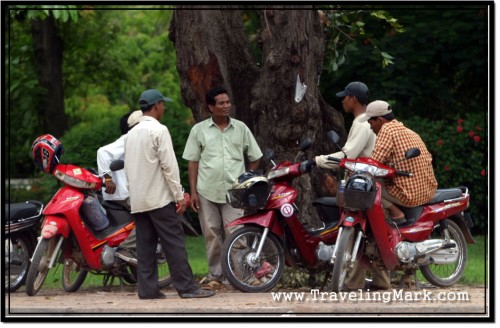 If something you'd normally consider a "not a big deal" happens to you – for example if you were pulling smokes out of your pocket and the box fell on the ground so you'd have to bend over to pick it up – you'd hear those locals laugh out loud like they're watching Tom and Jerry. It was nothing worthy of mentioning that happened to you and in all other countries you would just pick it up and go without anyone ever winking an eye, but that's not the case of Cambodia. Cambodians are extremely malicious and any chance to laugh at another that offers itself is taken a complete and thorough advantage of.
Now, if something more noteworthy happens to you – you slip and fall, for example – then the bored-out-of-their-minds Cambodians will explode with laughter. In any civilized country people would either try to help you or if you can help yourself, they would pretend that they didn't see your misfortune so as not to make you feel uncomfortable, but that's not the case of Cambodia. Locals here take great joy at making everyone and everything feel uncomfortable and will not miss out on any opportunity to show how rude and spiteful they are.
But it doesn't end there. Cambodians will also laugh at you when they should be the ones to be laughed at. For example if you come to a store and there is nobody to serve you. Or imagine you are riding a bicycle, you get to a gate you need to get through in order to get somewhere but you can't get across because lazy Cambodians who are killing time have their motorcycles parked there. They will loudly laugh at you for their own stupidity, for not realizing that they are blocking a passage by unqualified parking.
And as mentioned with the "10 points" example above, just as you get 15 points for running over an elderly with a walker, they feel extra entertained when they see a foreigner in a tight situation.
But scoring up foreigners doesn't end with the lazy types who sit around whole day. This principle also applies to road crossing itself and since Cambodia is known for having the worst drivers in the world with sidewalks blocked up with motorcycles forcing you to walk on busy streets, you will have thousands of bikes and cars to dodge each time you decide to take a walk. And if you take into account the traffic rules of Cambodia, as a pedestrian, you are on a complete end of the traffic food chain with absolutely nobody paying any respect to you. It will be your responsibility to watch out for the traffic which will come at you from all sides, including the sidewalks. Yet as a foreigner, if you fail to keep a keen eye on traffic to safely dodge the vehicles, it will be like scoring mighty 15 for running over an elderly with a walker. In Cambodia, hitting a foreigner is like hitting a jackpot on a VLT.
Yet this is all still something you can avoid. What you can't avoid in Cambodia is being continuously and uninterruptedly harassed by the Tuk Tuk drivers, touts and other scam artists. They are all extremely aggressive and don't take "No" for an answer. I've been all over South-East Asia but no other country has scam artists who are this much in your face and this ruthless. You will have to deal with hundreds of them every day, oftentimes approaching you with deliberate intentions to make you feel pressured. If there is a group of a dozen Tuk Tuk drivers one right next to another, even though they will all hear you say "No, thank you!" to the first one, they will still each get in your face as though this will ever make you reconsider not riding with any of them.
But this is only the beginning. After politely responding that you were OK and didn't need anything today, you will have them say something to each other in their native tongue loud enough to ensure that you can hear it and will have themselves one hell of a laugh to make you feel as uncomfortable as possible. If this discomfort results in you tipping over a curb or anything of sorts, this will be again like scoring the mighty 15.
If you make a local friend of opposite sex with whom you will go somewhere, hostile Cambodians will continue making extremely rude remarks both at you and at her (or him, if you're a girl with a local male). Then you will know clearly how rude they really are because your companion will be targeted as well and they will tell you what remarks were used.
Of course, rudeness of Cambodians doesn't end there. You will be stared down on every step of your stay in Cambodia. The more dangerous an individual, the more they will stare you down, laugh at you in front of your face and otherwise look for (provoke) trouble. Cambodians do not care about being friendly. They are only falsely friendly when there is a chance to easily make money off of you. Discrimination in Cambodia is prevalent and the locals will do anything to make you feel out of place. As sad as it is, it's time that someone called a spade a spade.