My first visit to Cambodia was in September – in the middle of rainy season. I wasn't sure what to expect and thought that when it starts raining in the beginning of June, it doesn't stop until the end of October. Luckily, this was not the case and as it turned out, there was advantage to visiting Angkor in rainy season. I wasn't able to make that comparison until I made my follow up visit in April and spent a couple of weeks in the country during dry season, but it was pretty obvious.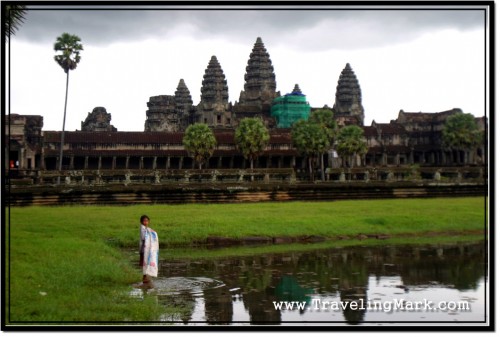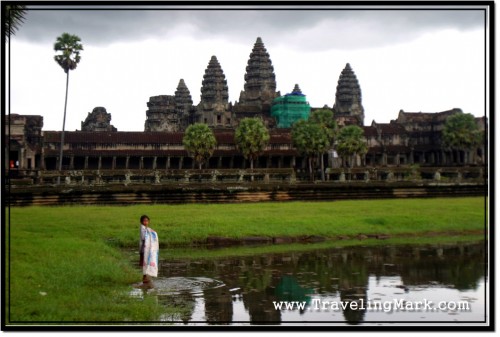 From strictly photographer's point of view, the temples of Angkor gain rich hue during rainy season because the stones are frequently bombarded by heavy torrential downpours. This makes the temples look more saturated (richer in density – if you will) than when the stones are parched dry by the intense sun rays of dry season. To put it bluntly – thanks to super high humidity which gives ancient stones richer shades, temples of Angkor look better in rainy season than they do in dry season. Plus all of the trees that grow along the temple walls look greener and livelier too.
Besides, it doesn't rain nowhere near as much as you would think it does in rainy season. After 3 months spent in Cambodia during rainy season, I noticed that rain patterns are not frequent enough to severely disrupt your plans. It hardly ever rained for more than one day straight. One rainy day is usually followed by four or five sunny days when sky is cloudless and roads are dry. Then you would get some rain, which would typically be restricted to an afternoon downpour, but that would again be followed by a sequence of several rainless days. Make no mistake, though – the afternoon downpours are so heavy, they can fill up all ditches and bury the streets in a foot deep pool of water within a couple of hours.
Sometime it would rain whole night and the following day would be rather gloomy and overcast, but seeing continuous rain for an extended period of time is unusual. As a matter of fact, the number of sunny days you'll get in rainy season will be about 4 times as high as the number of rainy days. Super high humidity with insanely intense sun will make for a sweaty stay, but the pictures will look awesome. There's no reason to feel sketchy about visiting Angkor in rainy season. It really doesn't rain all that much but you will catch the temple at their best. And that in my eyes gives visits to Angkor in rainy season an advantage.