Prasat Bat Chum temple ruins is a bit tricky to get to but it wasn't as difficult as some make it. This temple is one of the least visited structures on the small circuit – the most popular itinerary taken by vast majority of visitors to Angkor Archaeological Park – due to its location (slightly off the paved road through Angkor), size, insignificance and great state of ruin.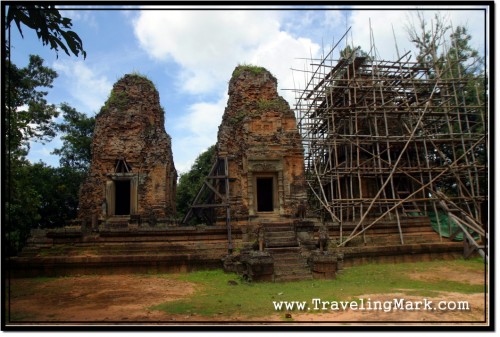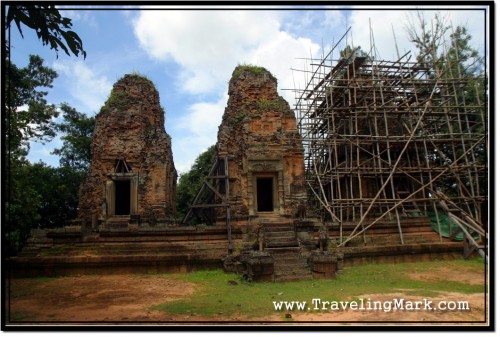 To get to Bat Chum, I left Prasat Kravan and followed the road north, towards Sras Srang royal bath lake and grand Banteay Kdei temple. The turn-off with the dirt road leading to Bat Chum has an arrow sign letting you know that this is the right turn you need to take to get to the ruins. It is proceeded by a small, detached police station and has a wooden shack on the corner selling stuff for the locals. Banteay Kdei temple is only a short ride from there so if you see an ancient wall with the gate crowned by a tower with four faces on your left, you'll know you had missed the turn off.
After the turn off to the right, I rode a bit down the dirt road, then turned left and later left again. The road eventually lead me to Bat Chum but because it was unpaved, it could be a bit challenging when taken after heavy rain. Luckily for me, three days of intense sunshine with no rain kept the dirt road dry and dusty, which is easier to ride on than wet and dirty.
What I found when I got to Prasat Bat Chum were three hills of brick that were once towers sticking out of the ground. All three towers sit on the same platform and face east. At the time of my visit (September 2009), the northern tower (prasat) was surrounded with scaffolding implying that it's undergoing restoration works, but there were no workers in vicinity (hopefully there are some international workers involved). Three kids from a nearby village kept me company while I was exploring the temple, persistently insisting on giving them a "dolla" each.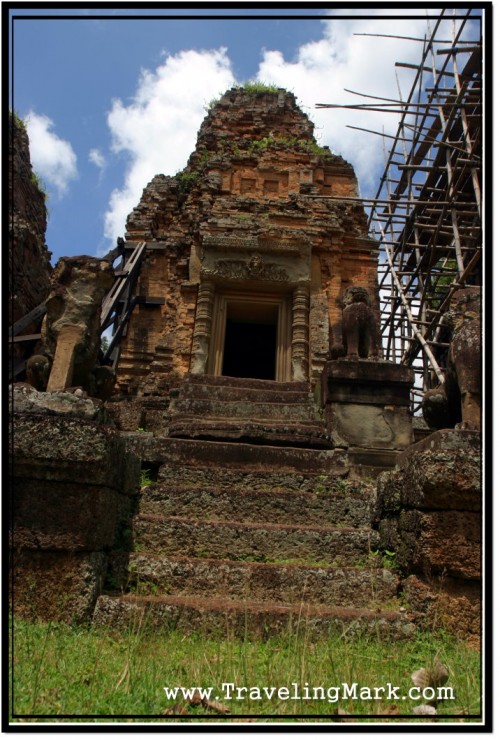 Kavindrarimathana, an educated minister of then king Rajendravarman believed to have been responsible for the design of East Mebon, Sras Srang and (possibly) Pre Rup also designed Bat Chum and had the praise of his work inscribed on the temple's door jambs. Kavindrarimathana remains the only Khmer architect involved with design of ancient Angkor temples whose name is known. Even though Khmer kingdom was dominated by Hinduism when Bat Chum was constructed (mid 10th century) the temple was built to be a Buddhist temple (Kavindrarimathana was a Buddhist) which makes it not only one of the oldest, but also most unique.
An enclosure wall and a moat that once surrounded Prasat Bat Chum are in such desolate state, you have to focus to see where they once laid. Stone lions guard the entrance to the central tower with two of them seated at the bottom of the staircase, but only one out of two that used to be on top is still there. The doorway of the main prasat is crowned with a lintel that contains nicely preserved (or restored?) carvings. Given the advanced state of ruin the rest of the temple is in, this lintel as well as the octagonal colonettes on the sides of the doorway are in an intricately good shape.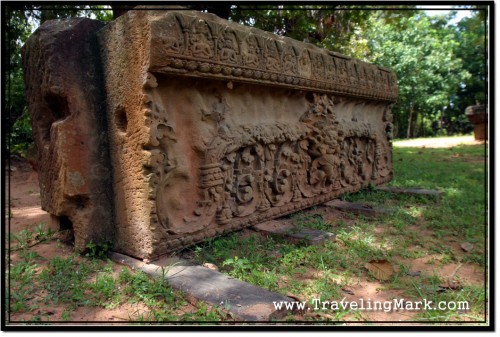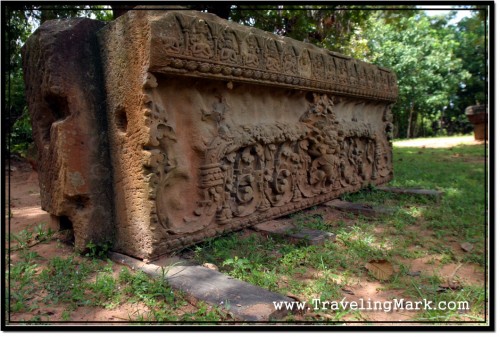 As an interesting fact, the inscriptions found on Bat Chum's door jambs also allegedly contain ancient "No Parking Here" signs requesting the elephant owners to keep their beasts away from dykes to prevent their damage.