At last I got through the hoards of tireless hustlers who will do and say anything and everything just to get you open your wallet and spend money, and there I was stepping up the stone steps leading to a causeway that follows across the entire Angkor Wat. There was however one more local I thought was also a tout I had to go through at the beginning of the causeway. Armed to ignore all locals who approach me asking for something, I ignored this guy too but soon came to realize that he's one and only exception to the crowds of peddlers who are solely after my money. This was an entrance guard stationed at Angkor Wat to ensure everyone who enters the temple itself has a valid pass.
I thought buying a ticket at the ticketing booth and showing it to the guards at the beginning of the road leading to Angkor was good enough but Sokimex Group Cambodia, company that makes millions of dollars collecting entrance fees from foreigners also stations their inspectors at entrances to all main temples as a secondary line of ticket inspection just in case a foreigner somehow snuck into the Angkor Archaeological Park.
To avoid scam Angkor area was riddled with before, all authorised guards wear light blue shirts on which they have a badge with their inspector number and around their neck a lanyard with Sokimex ID bearing their name and photograph that identifies them as rightful entrance guards. They are also armed with wireless radios and frequently communicate with each other.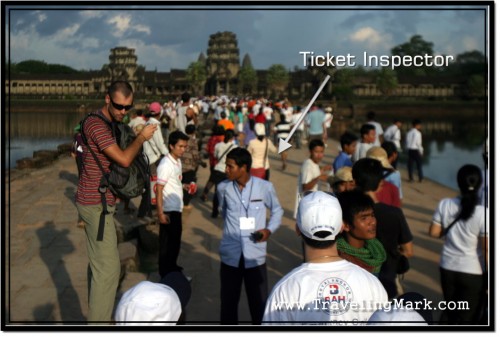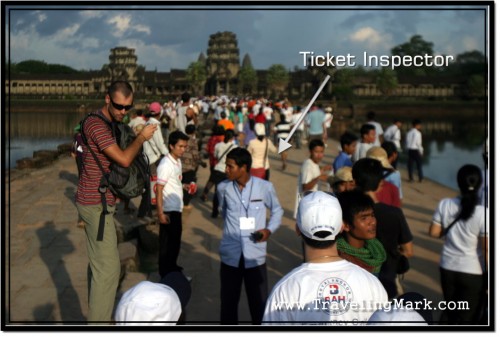 From what I was told, scam that consisted of anyone and everyone pretending to be an authorised guard to collect entrance fees from foreigners was virtually entirely eliminated using this approach. At least now when you pay your entrance fee, it does help the temples, not some scammer pretending to collect fees on behalf of Apsara Authority, right? Wrong!
Sokimex Group Co. LTD is a company with close ties to the CPP – Cambodian People's Party, the ruling party of Cambodia. The CPP is well known for being one of the most corrupt governments in the world and has a very bad human rights record. Prime Minister Hun Sen, leader of the CPP has no problem threatening those who oppose him with use of force or military action. Ordinary Cambodians who are not part of the Cambodian elite approved by Hun Sen have no chance of real freedom.
In April 1999, Cambodian People's Party gave Sokimex Group full control over the Angkor Archaeological Park entrance ticket concession sales. This was done without any input from the public or Cambodian opposition. Angkor, which is the cultural heritage of all Cambodians was taken away from them by their corrupt government and given to the private company to financially benefit from its worldwide popularity while ordinary people get nothing. The deal required Sokimex Group (Owners of Sokha Hotels chain) to pay the government One Million Dollars per year with all excess kept by the company.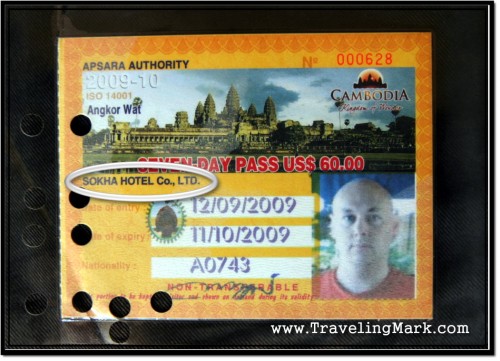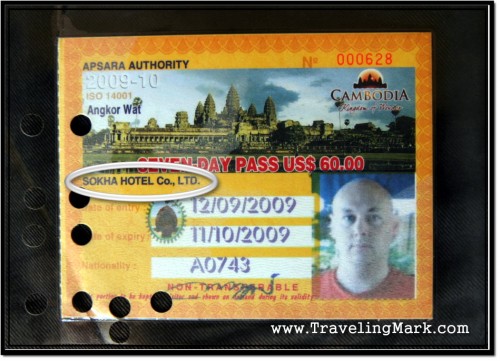 Due to strong opposition, the agreement between the CPP and Sokimex was amended a bit, but Sokimex Group still remains in full control over ticket concessions at Angkor and keeps a large part of the profits. To further benefit the company that supports the government, the CPP also commissions Sokimex Group to supply uniforms, food and medicine for Cambodian military, as well as the gasoline for the governmental agencies which is run through well performing voucher scam.
Apsara Authority, governmental body responsible for preservation, maintenance and protection of Angkor Archaeological Park gets small part of the profits, however being CPP controlled, Apsara Authority is also a dubious organization with shady practices violating the poor. There have been many cases of large groups of Apsara enforcers coming to villages with guns to threaten the villagers who "dared" to modernize their "traditional homes". Many people have been evicted and had their property repossessed by Apsara Authority with all rights removed and no voice to stand by them (all voices that oppose the practices of Cambodian People's Party get silenced).
Welcome to real Cambodia, one of the most corrupt countries in the world.