Coconut Water is a natural isotonic drink second in purity only to clean drinking water, but full of essential vitamins and minerals (potassium, sodium, calcium, iron, phosphorous and magnesium) in perfect balance. Even though (strangely) there isn't much buzz about the undeniable health benefits of coconut water, this refreshing beverage overshadows popular superfoods with ease. The electrolytes contained in coconut water match the electrolytic balance of human blood which allows the surgeons in tropical and sub-tropical countries to use it as blood transfusion fluid straight out of the nut. This practise was popularized during World War II when both sides of the Pacific conflict gave emergency blood transfusion to their wounded soldiers directly from the shell of a freshly opened, young coconut. However, you do not have to be wounded to benefit from drinking coconut water. Because it is absolutely essential for a long term traveler to look after their health while on the road, let's take a closer look at the health benefits and nutritional information of the universal well-being superfood – coconut water.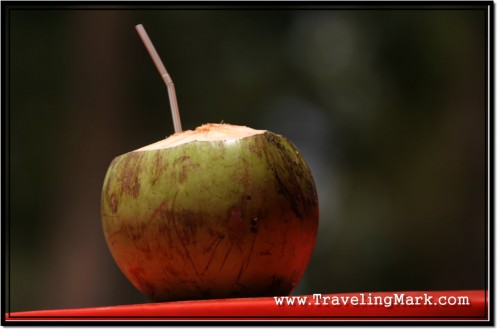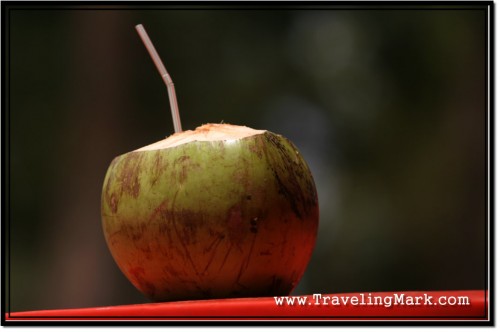 Coconut Water Health Benefits
Indigenous people from tropical regions have been aware of coconut water health benefits for centuries and drank it to gain vitality and boost immunity. Laboratory studies of organic compounds found in coconut water conclude that the beverage contains properties that can significantly benefit and dramatically improve one's health. Moreover, coconut water is 100% natural, completely free of chemicals and kept perfectly sterile (free from harmful bacteria) by an impenetrable shell making the water safe for people of all ages, including babies. The lauric acid found in coconut water is identical to that found in human breast milk.
Regular consumption of coconut water has demonstrated several significant health benefits:
Naturally Improves Immunity – body's natural ability to fight diseases
Increases Metabolism – can assist with weight loss by increasing body's ability to burn excessive fat
Increases HDL Cholesterol – alters levels of good cholesterol (High Density Lipoprotein) to battle off the negative effects of bad LDL cholesterol
Detoxifies the Body – assists in the process of removal of harmful toxins from the body
Regulates Intestinal Function – healthy intestines are an essential part of well being. clean intestines significantly improve complexion
Antiviral – our bodies convert Lauric Acid into monolaurin which has been shown to fight off lipid coated viruses, such as Herpes, Flu, Cytomegalovirus, as well as the deadly HIV virus known to cause AIDS
Antibacterial – virus killing monolaurin is also known for its bacteria fighting properties. It is also a potent antiprozoal monoglyceride
Re-Hydrates and Revives – badly wounded soldiers were revived with coconut water
Boosts Energy – coconut water is an isotonic beverage full of natural electrolytes. High calcium, cholesterol free content boosts vigor after workout
Low Calorie and Low Sodium Content – most juices and commercially available soft drinks contain more calories and more sodium
Reduces High Blood Pressure – Journal of Clinical Hypertension noted that people suffering from hypertension show low levels of potassium. Coconut Water can fix that
Balances Body's PH – combination of cytokinins and lauric acid helps maintain healthy PH. Proper PH significantly reduces the risk of cancer.
Controls Diabetes – helps by balancing blood sugar levels
Treats Kidney Stones – normalizes the acidity in kidneys which helps prevent kidney stones from forming in the first place. If kidney stones already exist, coconut water can reduce their size upon regular drinking
Relieves Urinary Problems – people suffering from polyutra, strangury or other urinary problems could see their symptoms relieved upon regular consumption of coconut water
Eases Stomach Pains and Vomiting – often taken by women with painful menstruation, but also works great with people suffering from Malaria or Typhoid
Reduces Risk of Cancer – through supply of essential minerals and vitamins, coconut water could prevent mutation of genes that leads to cancer. Furthermore, Cytokinins help regulate the divisions of cell and their growth
Kills Intestinal Worms – when consumed with olive oil for at least three consecutive days, coconut water has been found to kill intestinal worms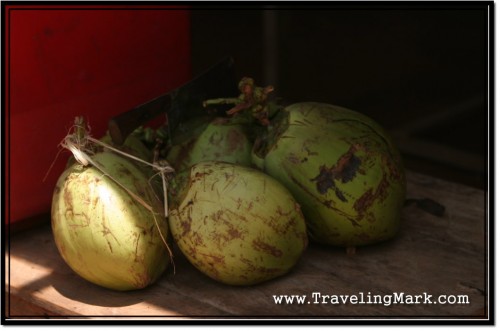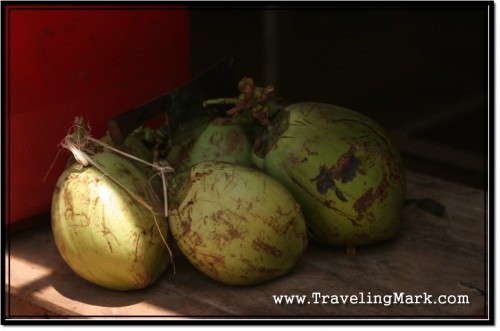 Coconut Water Nutritional Information
Coconut Water contains more essential nutrients than whole milk but unlike milk, it contains NO cholesterol and has fewer calories (less fat)
Coconut Water is healthier and contains more nutrients than Orange Juice AND has fewer calories
Coconut Water contains Lauric Acid which is present in milk from the breasts of breastfeeding mothers making it superior to processed baby milk
Coconut Water is naturally sterile (free from any harmful bacteria)
Coconut Water is identical to human blood plasma making it a universal donor (referred to as Coconut IV in the Third World Countries)
Coconut Water contains isotonic levels identical to human blood. It is hence the best and Natural Isotonic Beverage
Coconut Water as Natural Energy Drink
One glass of Coconut Water (100 ml) contains more potassium than a banana and more electrolytes than most commercially available sports drinks (energy beverages). Below is a comparison to demonstrate mineral qualities and health benefits of coconut water versus that of average sports drinks.
Average content of minerals found in 100 ml of coconut water compared to the content of the same minerals in 100 ml of an average sports drink:
Potassium:
Coconut Water: 294 mg
Sports Drinks: 117 mg
Chloride:
Coconut Water: 118 mg
Sports Drinks: 39mg
Sodium:
Coconut Water: 25 mg
Sports Drinks: 41 mg
Sugars:
Coconut Water: 5 mg (natural sugars)
Sports Drinks: 10 – 25 mg (processed sugars)
Coconut Harvesting
Good news is that the superfood we call Coconut Water grows on its own, with no human input needed and one coconut tree can blossom as many as 13 times a year. It takes about a year for a drupe to mature, but with 60 coconuts picked on average per harvest per tree, the supply is continuous and available year round.
The Best Way to Drink Coconut Water
Because coconut water quickly loses most of its nutritional characteristic and starts to ferment after exposure to air, to maximize health benefits, it is best to drink coconut water fresh, right after the nut has been cracked open. Fresh coconuts are widely available throughout South East Asia, Pacific Island or the Caribbean and are very inexpensive. Vendor would slice small opening into the shell of the drupe with a machete, exposing the water inside. You can easily and comfortably drink the water with a straw. If the coconut is cracked open upon your purchase, the freshness is guaranteed. Put the straw in and drink it in small gulps right away, enjoying the refreshing taste and instant boost to your body and your spirit.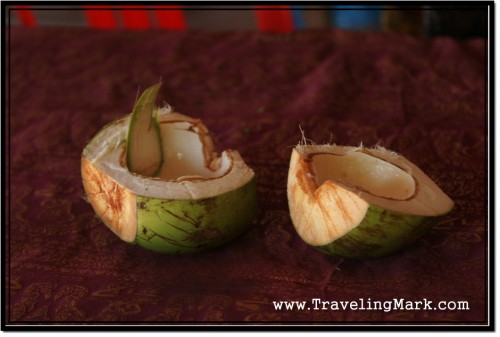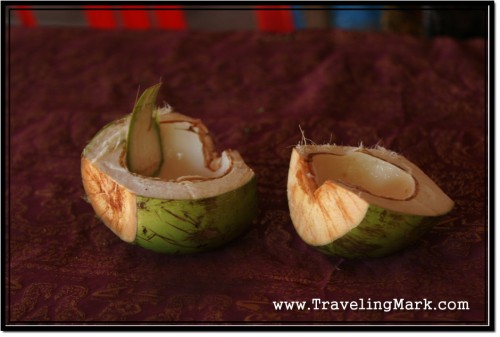 Coconut Water vs Coconut Milk
Coconut milk and coconut water are not the same thing. While coconut water is the fluid found inside young coconuts, coconut milk is an extract form the lining inside a coconut (meat).
Coconut Water Side Effects
Being low in carbohydrates, low in sugar and 99% fat free, coconut water helps maintain proper body temperature and promotes natural growth. Coconut water is hands down the best natural drink on the face of the planet that's safe for babies, pregnant women, breastfeeding women, elderly, etc. There are no known side effect to drinking coconut water so unless one suffers from nut allergies, drinking coconut water can only deliver health benefits.
Despite undeniable health benefits, though my friend Ted who's a doctor in Thailand warned me that because of high levels of potassium, coconut water could be potentially dangerous to people with weak kidneys. If your kidneys don't function very well, high doses of fluid with high potassium content could lead to kidney failure or a heart attack.
DISCLAIMER
Please note that I am not a doctor and information found within is not a substitute for an advice from health practitioners. Facts provided in this article are based on my own experiences drinking coconut water as well as experiences of other people I have had a chance to interview. Coconut water nutritional information and list of health benefits provided herein are the result of thorough research of studies found on the internet and other relevant media and are provided with best intentions, however I can not guarantee their accuracy. It is my sincere hope that each and every person reading this article experiences nothing but improvement in their health and well-being. If you believe that any part of the article is inaccurate, please do not hesitate to contact me with correct statements. Cheers :o)