Thommanon is a small, but nicely preserved temple from early 12th century. Built during the reign of king Suryavarman II (founder of Angkor Wat), Thommanon is just outside of Victory Gate on the north side of the Victory causeway but it stood there long before both Victory Gate and the causeway through it were built.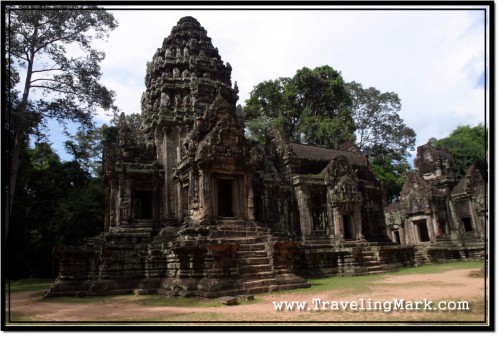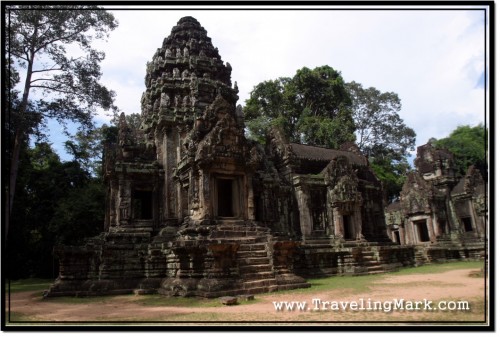 Thommanon is a rather small, but very elegant temple covered with admirable, fine carvings. Much of the outer enclosure is gone, but the temple was clearly built to face the east, even though as I was coming from the south it seemed as if the main entrance was facing this way. Lacking outer wall also gave an impression that individual parts of the temple were standalone, isolated buildings. They are not.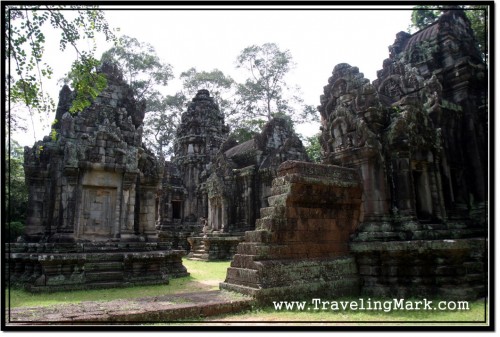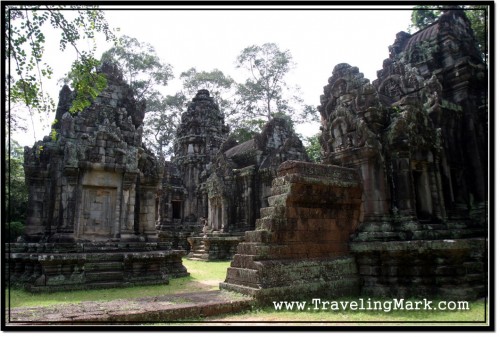 Central sanctuary of Thommanon has a lotus shaped tower similar to that of Angkor Wat (built by the same king – Suryavarman II). Short corridor connects the central tower with mandapa, an antechamber. West and east gopuras (entrance gates) are still standing, but north and south do not exist. It is possible that even though they were intended, they were never built. The gap in the base of the wall suggests that the empty space was left to put the gopura there, but the plan was probably never carried out. The moat that once surrounded Thommanon is now dry and virtually non existent.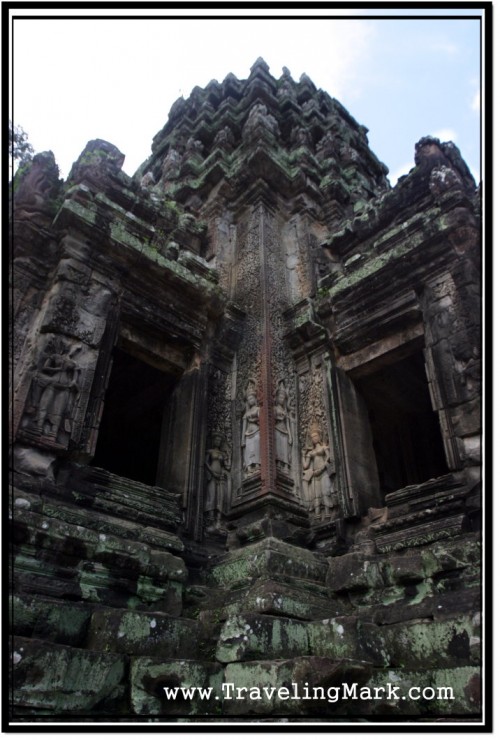 Thommanon has a rather high base with main floor being 2.5 meters above ground. Main entrance is obviously on the east, however each cardinal point has a staircase with porch and fake entrance of its own. Even though risky, it is possible to get inside through any of those fake entrance but expect lazy locals who don't go to work and just kill time sitting around on the stairs and porches staring at you and making fun if you attempt to get in through anywhere but the main entrance.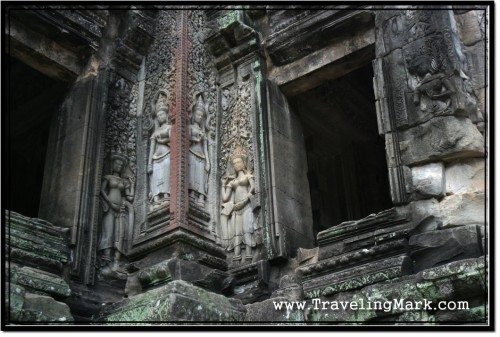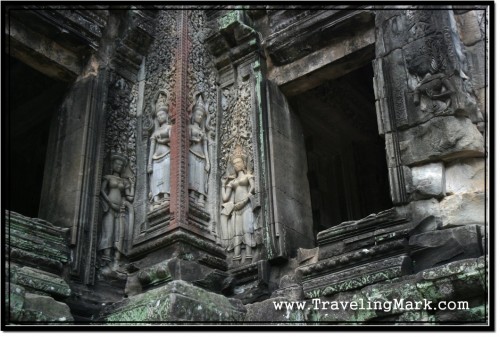 Even though by the time I got to visit Angkor Wat I had already been in Cambodia for over a week, it was at Thommanon where I made a rookie mistake of thinking that there is such a thing as friendly local in Cambodia who is simply nice to you because they want you to have nice memory of their country. Unfortunately, such people don't exist in Cambodia or are an extremely rare breed trampled and pushed aside by thousands of greedy scam artists.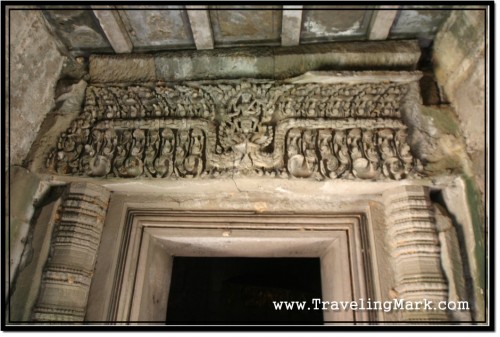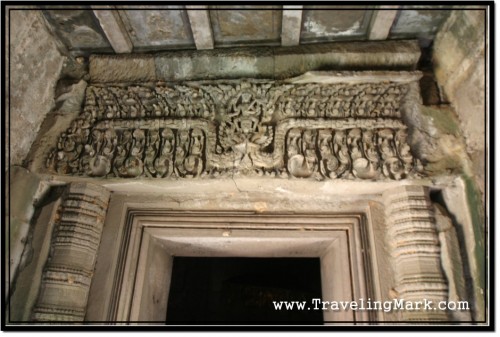 Frustrated real good by having been harassed by extremely aggressive touts whole day, I kept ignoring every local who came to talk to me. I knew that they all want money and nothing but money. They are too lazy to go to work and abusing tourists doesn't require manual work so why would they even bother working? Yet in spite of all that, when a local guy approached me and told me about a nice carving on the opposite side I may have missed, I still ignored, but listened with one ear opened.
He retained this very friendly tone of voice and talked to me as if he would like to be friends. I continued suspecting something fishy so I followed my own path and ignored him for the most part but he stuck by me telling me more about the Thommanon temple and asking questions about where I was from and when I came to Cambodia so eventually it seemed as though he was a nice guy who was just excited to meet a foreigner to get a chance to exercise some of his English.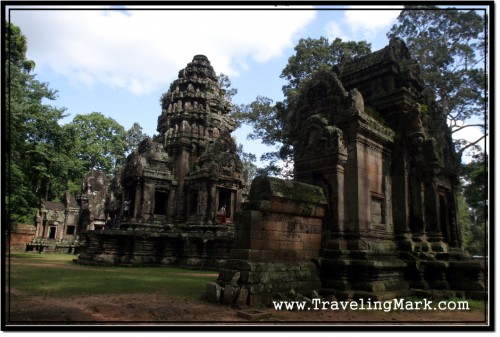 What a foolish thing of me to think it was the case. Even though I vastly ignored everything he told me about the temple and only responded politely to questions, as I was leaving the temple he insisted that I pay him for his guiding services. I told him I didn't have any money on me so if he said up front that this is what he wanted, I could have saved him from hassle but he used sneaky tactics to stick with me and since I didn't tell him off right away, to him it meant I needed to pay him money.
Needless to say, confrontation was imminent as Cambodians are extremely pugnacious but luckily I had my bicycle with me so I mounted it and quickly rode off. Another temple called Chau Say Thevoda is just on the opposite side of the road from Thommanon and it looked as though this was the reign of a completely different set of touts so he didn't follow. Apparently, even Cambodians have rules. It's shocking, but rules among themselves dictate which zone you don't stick your nose into because that's where other touts operate and they don't stick their nose into your zone.
I was physically and mentally exhausted. The heat from the non compromising sun was taking its tall. I needed another coconut and I really needed a break from the touts who knew very well how exhausting the sun was and how easy it could be used against weary tourists. I went through the stalls by Thommanon when tout who demanding money got off sight to find one that will not try to overcharge me for a coconut and took 30 minutes break from the sun sipping on this refreshing beverage.
I was only meters away from Chau Say Thevoda and it looked like just a small ruin, but I couldn't do it anymore. I have severely underestimated the aggressive nature of Cambodian touts and devastating heat of Cambodian sun. I wanted to finish the small circuit, but I had no physical nor mental energy left. Physical energy was sucked out by the merciless sun, mental by the merciless scam artists and touts that followed me along on every step not giving me a minute of peace.