The Pchum Ben Festival of the Dead was well under way when I took my Vietnamese friend Ha to the Royal Independence Gardens to enjoy the shriek of the Flying Bats with me. Because Pchum Ben is a major festival in Cambodia, both Preah Ang Chek Preah Ang Chorm Shrine and Ya Tep Shrine were very busy with hundreds of people coming in and out all the time. As it goes in Cambodia, where there is a group of people, there are street vendors offering various decorative and spiritual items for sale. Aside from pretty flower wreaths, one of the most offered articles by these temples were live birds and other live animals for sale.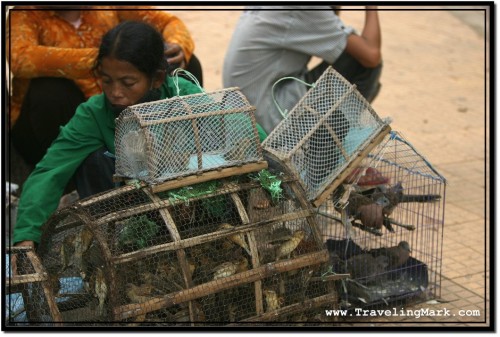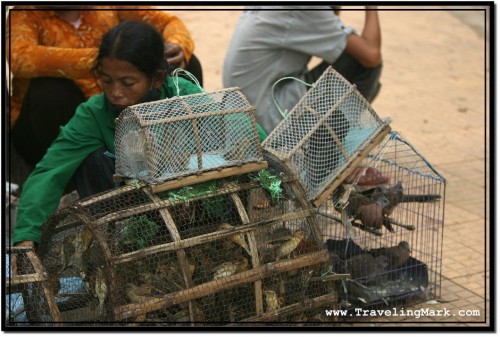 I found this extremely disturbing and saddening. I don't know how live birds sales go together with principles of Buddhism, but Cambodian Buddhists take great pride in trapping live animals, keeping dozens of them cramped in small cages and selling them for profit to other Buddhists who come to the Buddhist temple to worship the statues of Buddha. From what I've noticed, people buy these live birds, keep them clenched between their palms and close to their mouth while they silently utter their prayers (or wishes?) and release them with a beaming smile afterwards.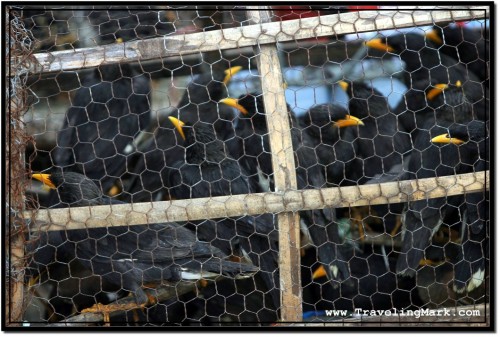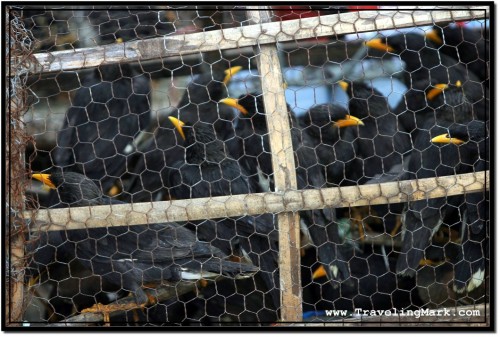 This act of release is what matters, I suppose. You can see the obvious spark in their eyes as they are doing it, however what they don't realize is that in order to release the bird, that poor animal needs to be caught and caged first. But the saddest part happens shortly after the release. These birds have been kept in overcrowded cages, having no room to stretch their wings, often bleeding, suffocating or getting trampled by other birds – all that on top of starvation and dehydration because they are not fed which renders them unable to properly take flight after the release. As a result, you see those birds released, they take off and attempt to fly but hit the ground very quickly. Defeated and at the end of their strength, they helplessly die shortly after release. Only few are well enough to actually go and enjoy the freedom again. Those are presumably the lucky ones that get purchased before they are in the cage for too long.
Short walk across the fields surrounding the temples offers clear picture of what happens to the majority of the birds upon release. You can't take two steps without stepping on a dead bird. It's a very sad sight that makes whole purpose of "releasing" a life into the wild a complete joke.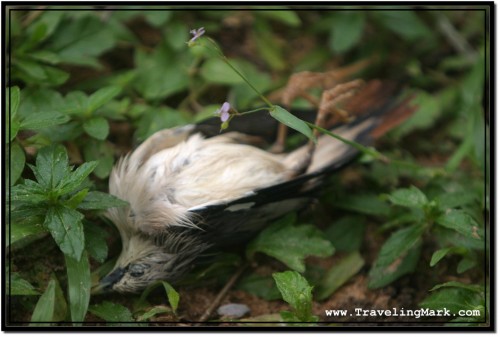 I have seen young boys walking around with long stick, poking them with great thrusts into bushes. Then I saw the same boys walking towards the women sitting at the temple with cages full of live birds for sale, delivering another captive to join the others. I don't know how they catch those birds with just the sticks, but they must have the means. The thought of hurting an animal is very saddening to me so I never actually wanted to see this in action. However I do think those birds suffer some trauma during the capture which could also be the cause of excessive bleeding in the cage and premature death.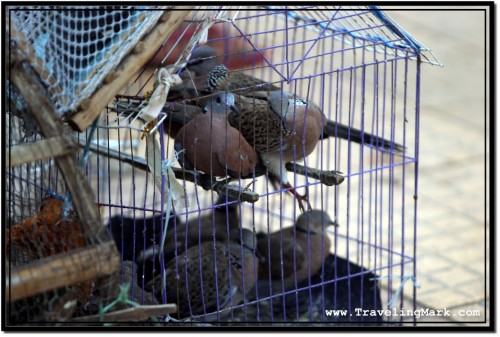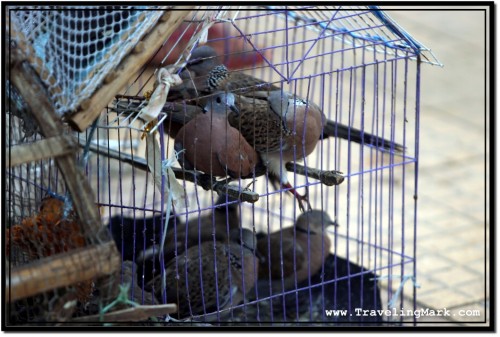 The worst thing about this whole ordeal is that Cambodians take great pride in "releasing" those live birds. Nobody seemed bothered by the fact that those living creatures suffer a great deal while they are kept in horrible conditions which affect their ability to fly and result in near certain death. Shockingly enough, aside from having live birds for sale, women with cages also sell other live animals, such as turtles. I don't know what exactly is done with turtles after they are sold, but I don't expect much. They are likely starved to death as they are piled in buckets on top of one another without water or food. I am not a Buddhist expert, but whatever divinity the Cambodians are trying to impress with these acts, I'm pretty sure that it's not working. If anything, it has the opposite effect. Live and let live, the principle on which Buddhism was founded is directly breached and crapped upon by everyone who buys or sells a live bird like this. You don't have to be an expert to understand this.