Well here is a question – Is Cambodia Barrier Free? Cambodia, the country of world's worst drivers and some of the world's most severe personal safety issues – is it barrier free? This is without doubt a legitimate question as many travellers who like to visit foreign countries either suffer from disabilities themselves, or have someone with them who is disabled. So is Cambodia barrier free enough for them to safely move around? The short answer is simple – "No". But let me elaborate with the long answer a little.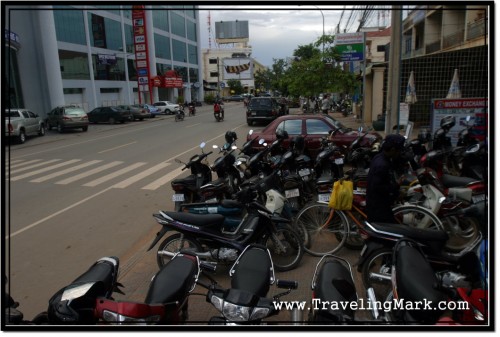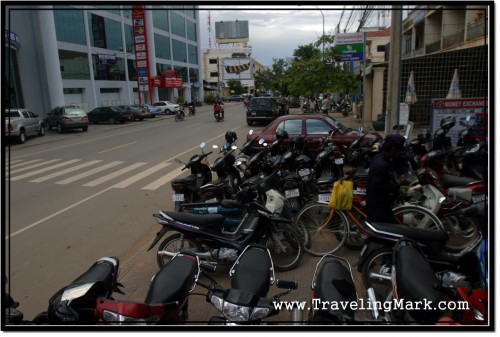 When talking about barrier free countries, one could divide them into several groups:
Barrier Free Countries – many western countries, such as my homeland of Canada strive excessively to be completely barrier free and most people with disabilities truly can make their way around without major issues
Tricky Countries – moving around if you are a person with disabilities can be tricky, but can be done with some planning or little assistance
Not Barrier Free Countries – some countries, such as Cuba have narrow, cobblestone streets that are tricky to navigate through, however locals are more than happy to help without being asked for it. When they see someone in need of assistance, they will be right there to assist
Barrier Full Countries – those would be the countries that are very difficult, or impossible to effortlessly enjoy by the people with disabilities
Forget It Countries – barriers exist in all walks of life making an enjoyable stay for people with disabilities an impossibility
Cambodia – you take the most advanced barriers that prevent people with disabilities to navigate through, combine them into an impenetrable maze, enhance the level of difficulty by infinity and then add some extra barriers on top of it and you get Cambodia. If you find yourself in need of assistance, instead of being helped, you will be laughed at and mocked straight in your face. Cambodians don't help others, only themselves. If there is something in it for them, then you will suddenly have more than enough of them willing to assist. Unconditional help doesn't exist
Cambodia is not, by any stretch of imagination a barrier free country. People with disabilities will find it impossible to exist in Cambodia however Cambodia is also full of barriers and danger even for fully able bodied people. You do not have to be disabled to find it impossible to move around or otherwise exist in Cambodia. To add insult to injury, though – if you come to Cambodia as a fully able bodied, healthy and fit person, Cambodia will put you through some unfathomable dangers so if you leave the country in the same condition you have entered in, you can congratulate yourself for achieving the unimaginable.
In other words, Cambodia is not barrier free for people with disabilities, yet it's not barrier free for people without either. And if you come to the country without any disabilities, you got to be extremely alert and careful at all times or else you could soon earn yourself some.
Road traffic is so dangerous in Cambodia, that no matter what means of transportation you choose to use during your stay, you will be constantly in danger of getting involved in a deadly accident. However the smaller the vehicle, the bigger a danger. Riding a motorcycle or a bicycle are particularly dangerous activities and one has to be more than careful and have their eyes affixed on the road with peripheral vision checking out the situation in all angles at all times. Yet the biggest danger faces you each time set out for a walk.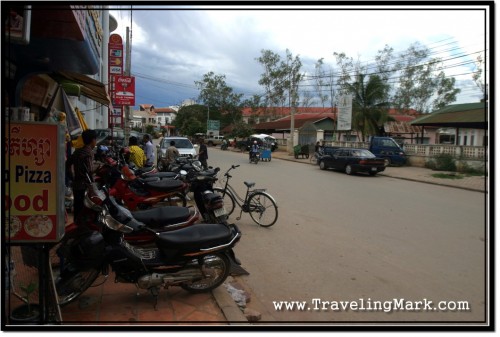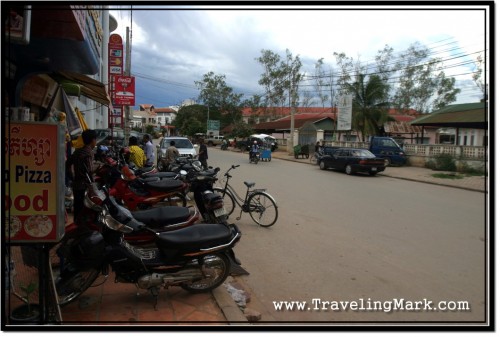 Cambodians are extremely rude and self important people who need to repeatedly boost their egos (some say it's the genitals they need to compensate for, but you will find both males and females behaving that way). You will be shown no respect from other traffic participants and if you're a foreigner, the respect will be that much lower. Because sidewalks are unavailable for use by pedestrians because they serve as parking spots for cars, motorcycles and tuk-tuks, each time you go for a walk, you will be forced to walk on the road directly in the way of disrespectful drivers. Even though Cambodians should drive on the right, you will have traffic coming at you from both sides. It will be topped up by people pushing food carts around forcing you to go to the middle of the road to get by them and that's where it starts getting super dangerous.
Yet the gravest danger lurks out from the side, where you would least expect it. Cars and bikes parked on the sidewalks – on those sidewalks you cannot use because they are parked there – will reverse into the traffic without any regard for pedestrians who are forced to walk on the road. They will back right into you unless you jump off their way and that's where any form of being "barrier free" ends. You will have to be extremely vigilant and alert at all times to avoid getting disabled by a rude driver entering the road from a sidewalk and this will happen to you a hundred times a day.
The fact that you will be pressured, stared down and laughed at each time you get blocked off so you have nowhere to go makes safe decision making extremely challenging. Verbal abuse will be evident and you will know you are a subject to mockery but you will have no option but to take it right where they serve it to you. Many Cambodians carry guns and they are fully aware of the fact that law is not enforced in their country (none exists to begin with). There is nothing preventing them from blowing your brains off if you stand up for yourself. They are used to killing and raping so just take the humiliation and abuse and keep your eyes wide open because another out of control motorcycle is riding down the wrong side of the street and there's no way he's stirring away from a pedestrian.
Below is the video that briefly shows how "barrier free" Cambodia is. It's one of those countless cases where I was walking down the street and because of piled up motorcycles, tuk tuks and cars I had to get on the road facing bikers swishing by me from both sides. Soon after I had a car that was parked on the sidewalk start reversing onto the road, completely disregarding the fact that a pedestrian was coming and had I not responded swiftly by slowing down when I noticed the reverse lights come on, I would have been struck by it. This is by no means an isolated incident. This happens all the time and then some. Motorcyclists don't even seem to shoulder check at all. They are particularly happy to hit you with their two wheelers.