As I was walking around Wat Bo with my camera hung around my neck, I noticed smoke rising from underneath the metal roof at an open area of the temple grounds. There were several middle aged men underneath the roof and given that it was September when temperatures in Cambodia reach extremely high levels, I did not envy them one bit as they were not only heated by the sun, but also by the fire in the midst of the roofed area. Wat Bo is a fairly quiet pagoda which doesn't see many foreigners so my presence was instantly noticed. Even though this was only my second day in Cambodia, I was already used to the fact that Cambodians gawk at all foreigners as if they walked around with monkey on their heads, so I vastly disregarded the stares, however I was attracted by the smoke and wanted to see what they were doing under that roof so I came closer, camera still hanging off my neck.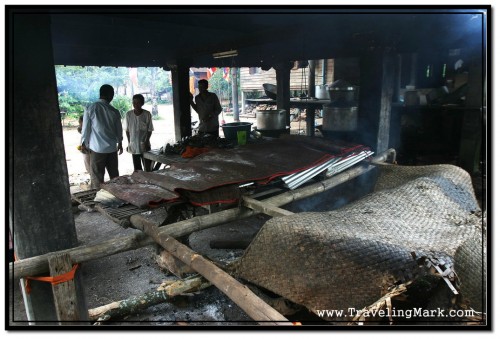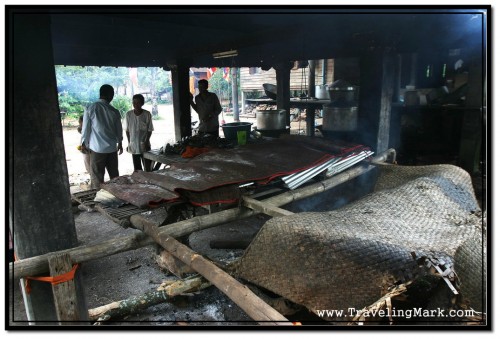 Language barrier was impenetrable as all of the locals under that roof were aged males who could not even read or write in their native tongue, nevermind understanding foreign languages. Since my understanding of Khmer language was virtually none, any form of verbal communication was impossible. It hindered me not.
I noticed a pile of green rolls on an improvised table next to the fire. These people were obviously cooking something and wrapping it up in banana leaves to serve as food. Smiles on their faces made me feel welcome so I took pictures of what was going on and one of the men picked up one of those a leaf wrapped rolls, unwrapped it and handed it to me with a smirk and a sign to give it a bite.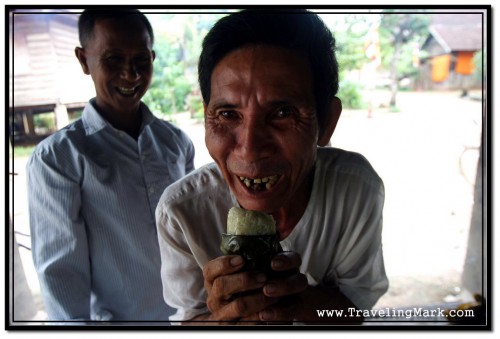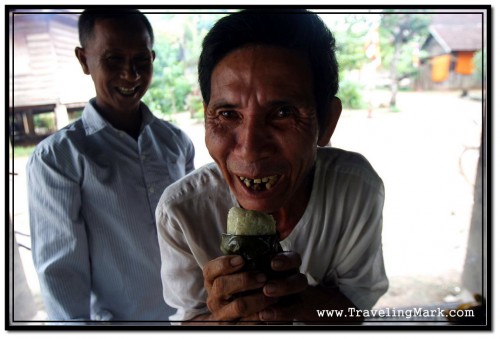 Once unwrapped, I could see that it's a rice roll that perfectly sticks together and is wrapped tightly in a banana leaf giving it almost an impression of vacuum packing. As I learned later, these were Sticky Rice Cakes (referred to in Khmer as nom ansom) and they can really stay preserved inside that banana leaf for a good month without going bad, even when stored in permanently hot environments (Most rural Cambodians don't even have electricity, nevermind fridges).
I took that Sticky Rice Cake that was so graciously offered to me and gave it a bite. It tasted awful. It was bland and tasteless. It felt like some mass in my mouth, but it had no taste. They obviously did not add any salt or other seasoning to it so the mass lacked any taste whatsoever. Inside the rice roll was a filling. The one I started to eat had meat filling, quite possibly pork – from the looks of it. The filling was as tasteless as the rice. I was not used to eating tasteless foods prior to coming to Cambodia which made it increasingly difficult for me to enjoy it. Regardless, these men who were cooking Sticky Rice Cakes within the Wat Bo temple grounds obviously did not sport the financial riches and simple foods, such as a Sticky Rice Cake was often all they could afford to eat. And they graciously offered me one to eat right on the spot. This act of unconditional generosity was so heart-warming I got over the taste lacking sticky rice and continued pretending that I enjoyed offered cake immensely.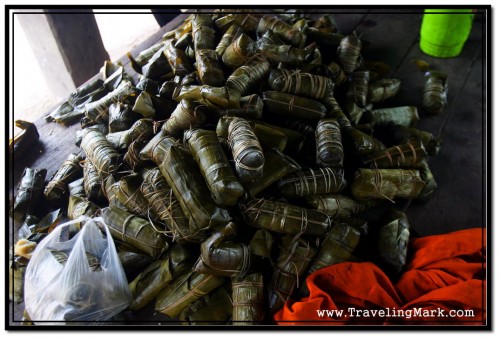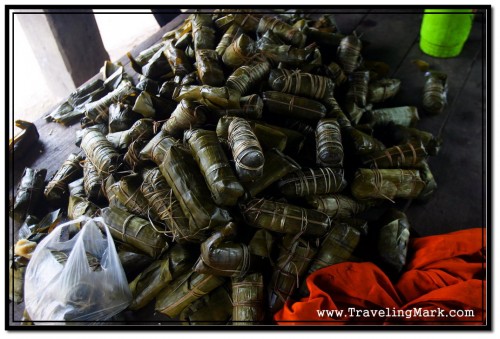 I wanted to ask what exactly these sticky rice cakes were, what exactly the filling was, how exactly they make them and whether I can leave a contribution to Wat Bo but language barrier made it impossible. And before I knew it, the man who unwrapped the sticky rice cake I was eating, already had a small plastic bag filled with about a dozen of those sticky rice cakes and handed it to me with a smile. I was trying to explain that I could not possibly accept that, seeing how these men barely had enough for themselves, but as I was talking, they kept smiling at me like the nicest people in the world, not understanding a single word I said. I did not know what to do next.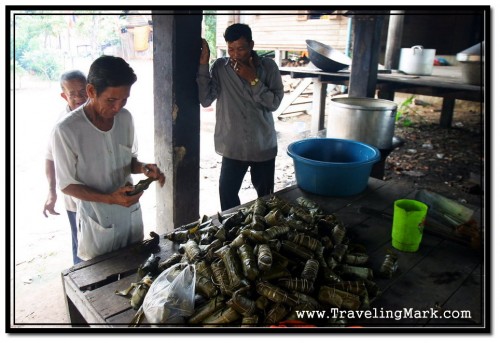 I really did not want to leave with so many rice cakes from people who obviously don't belong anywhere near the middle class, yet I had no means to explain this to them. On the other hand, simply leaving the bag there and taking off would be extremely rude as it may make them feel like I despise them and/or their food. Without the ability to explain my thinking in words, I was in a dead lock. Last thing I wanted was to offend these genuinely nice people who don't have much for themselves, but did not hesitate to share with a random stranger. This pile of sticky rice cakes they have just cooked may have been the food for all of the pagoda for a month. Now I was gonna leave with a dozen of the cakes I didn't even like the taste of. But they looked so happy to have shared it with me I could not disappoint them.
I spent a little bit of time with them, slowly biting off from the sticky rice cake I had unwrapped trying to make it look like I enjoyed the taste and later made a move towards main Wat Bo pagoda to take pictures of it. I took the plastic bag filled up with still wrapped sticky rice cakes, made a hand sign that I'm going that way to take some pictures and took off without saying good bye. I still had it in my mind that as I'm taking pictures of the pagoda, I will work out the strategy to give these sticky rice cakes back to them as they'd serve them much better than they would serve me.