Trouble with Cambodia is that it's a tropical country so it's always very hot there. Because of that, no matter what time of year, the moment you step your foot outside of the air-conditioned room, you will find yourself instantly drenched in sweat. I had my digital SLR camera with two lenses with me. One was a wide angle lens and the other one was a telephoto lens. Each time I was gonna leave the room, I only took a camera with one of the lenses mounted on it because carrying extra equipment in this heat was extremely difficult. Wide lens seemed to have more general uses so unless I went to a specific event where I'd know telephoto lens would be needed, I would leave with the wide angle one mounted on. It was also the case of my latest visit to the Royal Independence Gardens.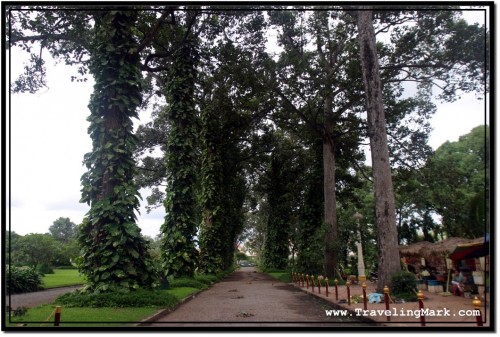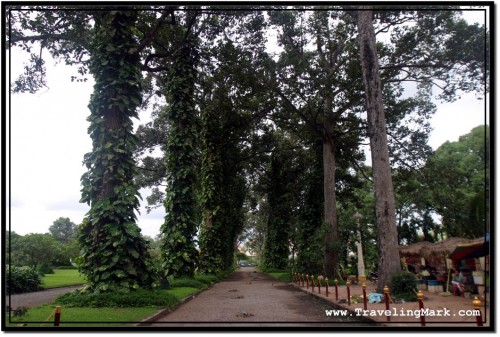 I was looking forward to observing those majestic Flying Foxes during the day after my night time visit left deep impressions. Now that I could see, I noticed that the Flying Foxes dwell in the highest branches of old, tall trees that lined the main walkway across the Royal Independence Gardens. Even though bats are nocturnal animals, the shriek was as intense as during the night when they are awake and active. Vast majority of the Fruit Bats slept in their typical upside down position but their numbers were so vast, there were always odd individuals that were awake and shrieked.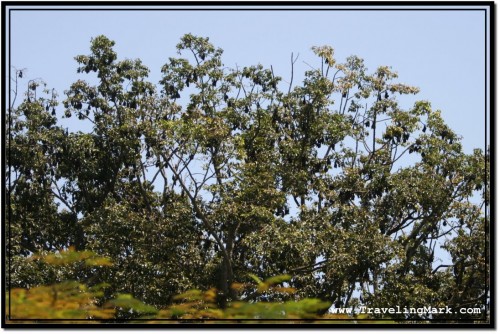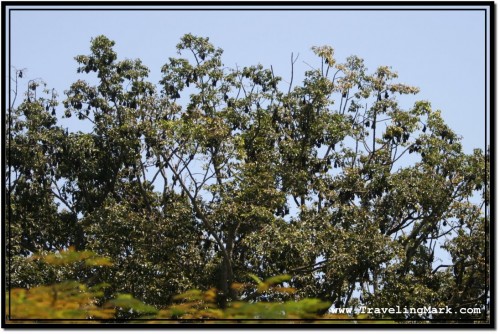 I could see there were thousands upon thousands of those Flying Foxes dwelling high in the tall trees, completely oblivious to the hustle and bustle of the life on the ground. I took a break to simply watch them from below and it seemed as though the most common reasons for awaking and shrieking was either fighting for space or wanting to copulate. Females seemed to play loud and obnoxious hard-to-gets but males were just as loud. Feisty nature of these huge mice with wings was apparent in how freaky they got each time another member of the pack appeared too close. This was assumed to have been an invasion of space and was opposed by deafening shriek which turned the heads of all passersby.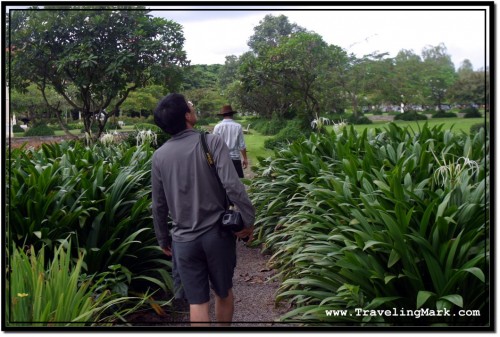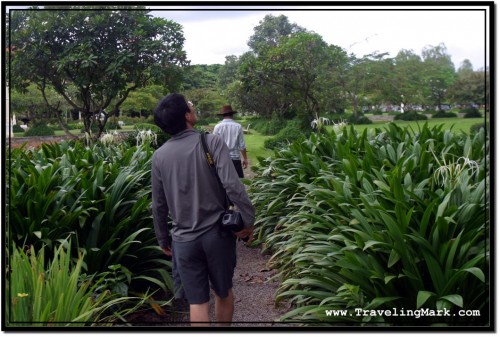 I do not know what the trees on which the Flying Foxes dwell are called. Their trunks are covered in lush vegetation making them look as though they belonged in the jungle. Bats occupied only the highest branches and none seemed to hang lower than in top quarter of each tree. Those trees were fascinating me, but main fascination was with flying foxes themselves. They are so big and so loud you can hardly hear yourself talking. Yet fascination went on with locals visiting the Preah Ang Chek Preah Ang Chorm Shrine and acting as though those bats were not there at all. All of us foreigners could not take our eyes off of those massive bats, yet locals wouldn't even acknowledge their presence. It was as though the Flying Foxes were as common as omnipresent mosquitoes.