After I had my laptop stolen, I realized that one of the most powerful and easiest to implement ways to deter theft and identify yourself as a rightful owner even if the laptop is not in your hands is by permanently watermarking your unit. If you are able to make a permanent, irremovable mark on a visible part of your laptop, than chances of resale drop significantly, value drops insanely and chances of recovery increase. Writing your name and contact email address with accompanying text that identifies you as the rightful owner with a permanent marker would be somewhat good, but carving the information in just in case someone uses a solution that can wipe off the permanent ink is even better. This is what I was going to do but then I found out about much better a solution, one that serves a bunch of other good causes – Stop Theft Tag for Security Tracking of Office Property.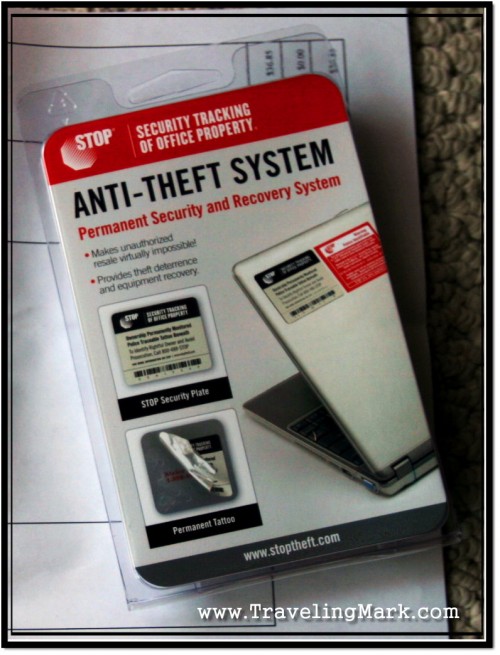 Stop Theft is a security plate that gets permanently attached to your office equipment (most popular with laptops, but can be used with other office equipment) and requires great amount of force to remove. Any attempt to remove Stop Theft tag results in visible damage to the equipment which significantly decreases its resale value. Removal of the plate also reveals the etching below which is permanently tattooed on the casing of your equipment and contains words "Stolen Property" along with the toll free number (+1 800 488 STOP) which connects to the Stop Theft's recovery hotline. This toll free number also appears on the security tag along with bar-coded ID. There is a highly visible, well worded warning on the tag which makes everyone aware that tagged laptop is police identifiable and contains other information to quickly facilitate the recovery of your laptop whether it's stolen, lost or misplaced.
While the Stop Theft tagged laptop is under your control, its value is increased. However if stolen, the tag which is attached at a prominent location, along with the chemically bonded tattoo below make it impossible to explain to a potential buyer, completely eliminating the elicit resale value of the property. Because Stop Theft tag links the equipment to one particular user, this user can sell the equipment along with the access to their Stop Theft account which could serve as added value that comes with the laptop, increasing its potential worth.
The downside of permanently marking your laptop at a highly visible spot is that it ties the laptop to you forever. That diminishes its resale value even if you as a rightful owner decide to sell it. It could also deface your notebook and make it look very visually unpleasing or downright hideously ugly. Stop Theft Security Tracking Tag solves these issues with style, provides the same effect as you would achieve with your own, hand crafted watermark, adds a patented method that etches a permanent, unremovable tattoo to your equipment but also provides easy and free ways for contact rightful owner without disclosing their identity and contains strong language that would make would-be thieves think twice before they touch your laptop. Most of all, unlike self made watermark, Stop Theft Security Tracking Tag adds resale value to your laptop for as long as it is the rightful owner who is looking to sell it. In the hands of the thief, it does exact opposite.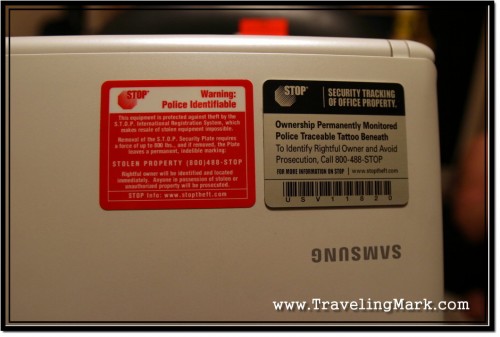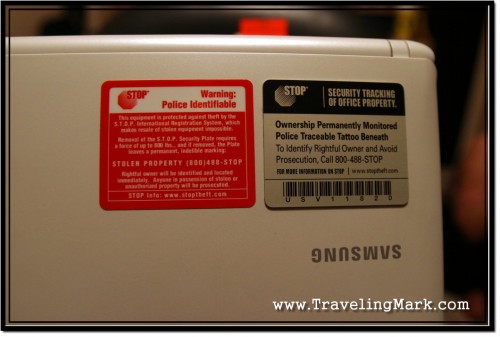 Stop Theft Security Tracking Tag costs only $20 to buy. If you purchase larger quantities of the tag, price per tag becomes significantly lower. This can be particularly invaluable for the use by organizations with many portable devices (such as laptops). Because of attractive price when you buy a bulk of 10 plates and because of savings on shipping, I thought of buying 10 at the same time and possibly using it overtime on new laptops I may buy in the future or some other equipment (use of Stop Theft Security Tracking Plates is not limited to laptops). However I have eventually decided to go with only one after discussing my options with Doug Belfiore, one of the people behind Stop Theft.
Talking with Doug of Stop Theft was a positive experience that further proved the company is on top of the game and uses coveted human approach. Replies were timely and contained no cut and paste phrases. Doug was responding directly to me, addressing directly everything I asked about and talked like a friend, rather than some machine that must deal with customers every day. I had no doubt that Stop Theft is a solid company. I did my research and found nothing but good things that people had to say about them and their product. It is a great value for money and an invaluable security feature that could save you from a lot of grief.
Because Stop Theft is a US based company (located in Norwalk, Connecticut), the tags are shipped from there which means longer waiting times and higher overall cost for all of use who don't live in the US. Shipping to Canada was almost $12 US (shipped by USPS – the less expensive of two available options) which increased the cost of the whole ordeal by more than 50% however the plate came well packaged and was shipped swiftly (USPS tracking number was emailed to me within hours of order placement), causing no delays in application. I was truly excited when I got the parcel as it made me instantly feel as though the chances of losing my laptop to a theft again dropped significantly. I could not wait to apply the security sticker to my machine.
Stop Theft Security Tracking of Office Property Website is located on www.stoptheft.com
DISCLAIMER:
The preceding is my personal review of the office equipment security tracking system Stop Theft. I have not been paid to post this review.
Check out how I tagged my laptop with Stop Theft plate to prevent theft.