Behind the pool flanking the South Khleang is a long laterite terrace called Vihear Prampil Loveng. The 128 meters (420 feet) long Vihear Prampil Loveng is surrounded by a rectangular wall with entrance gateway in the north wall – can be accessed from Victory Way, the causeway connecting Victory Gate with the Royal Palace area.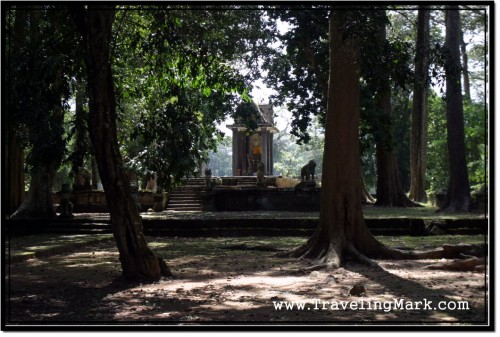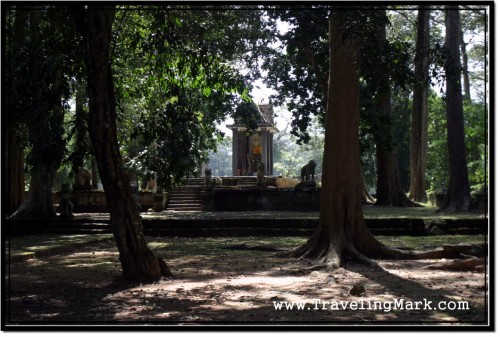 Most visitors to Angkor Thom never make it to Vihear Prampil Loveng because it's so insignificant and uninteresting however I thought that the fact that it houses the chief divinity of the original Bayon temple was rather fascinating.
3.5 meters tall statue of Buddha sitting on a serpent that coiled three times to serve as a throne and whose multi-head spreads into a hood to shelter the Enlightened One like a canopy was originally placed in the central sanctuary of the Bayon temple but when king Jayavarman VIII took over from Jayavarman VII, he went on a big mission to demolish all Buddhist relics and instil new religion which resulted in destruction of the Buddha statue installed in Bayon.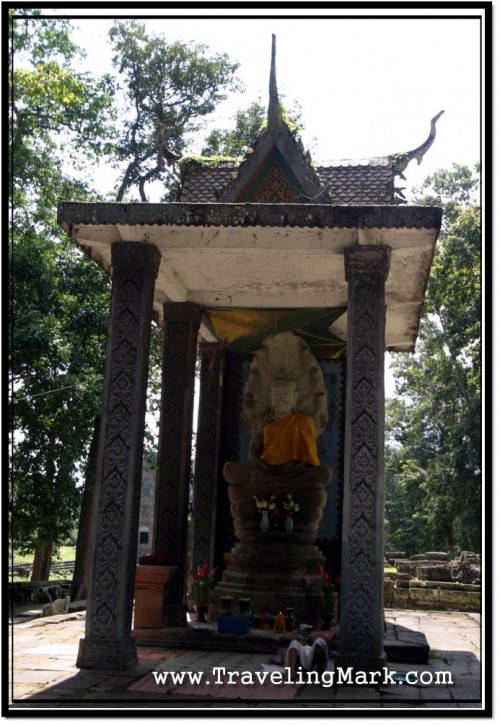 Strangely enough, all of the pieces of shattered statue were recovered in 1933 when archaeologists discovered it in the well of the central Bayon which allowed them to fully restore this historically important relic. It was removed from Bayon and placed in Vihear Prampil Loveng where it still sits today.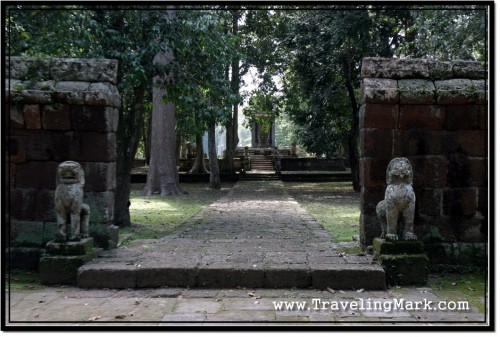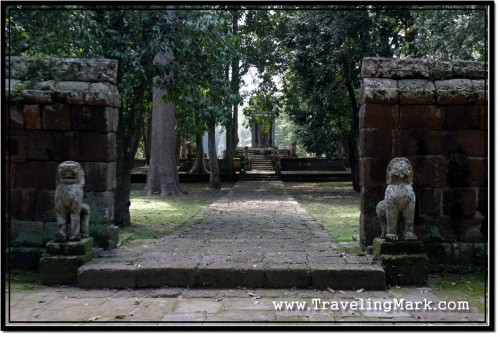 According to the Khmer legend, serpent Naga king Mucilinda emerged out of the roots of the tree under which Buddha was meditating to shelter him from the storm. This scene has become one of the most imitated artforms in which Buddha was depicted. Even though the original statue depicting the very motif was removed from Bayon, many smaller statues of the same can still be found at several spots throughout the big temple.
Vihear Prampil Loveng entrance stairs are decorated with Angkorian era lions and elephants but the overall ancient feel gets lost with the rather unfitting pavilion housing the statue. When I made my way all the way to the pavilion to take a picture of said Buddha, I disturbed a Cambodian nun who was sleeping at the foot of the statue. Upon noticing, she instantly rose and charged towards me to try to collect donations which as it goes with Angkor, are solely used for personal enrichment of a person who collected it. This prompted me to shoot off.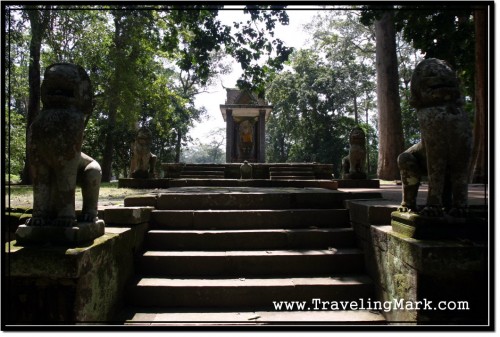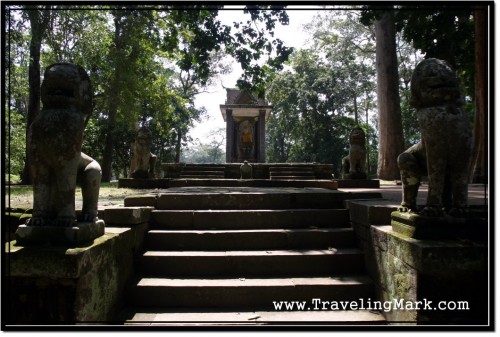 However since Vihear Prampil Loveng covers quite an area, I got out of her sight quickly and was able to spend a little more time taking pictures of what fascinates me about Angkor the most – trees growing over ancient stones.