This is my personal review of Two Dragons guesthouse in Siem Reap, Cambodia. It reflects my personal impressions and experiences after staying in Two Dragons for a week. All the positives and negatives, all the pluses and minuses in this review are presented without bias and without misleading.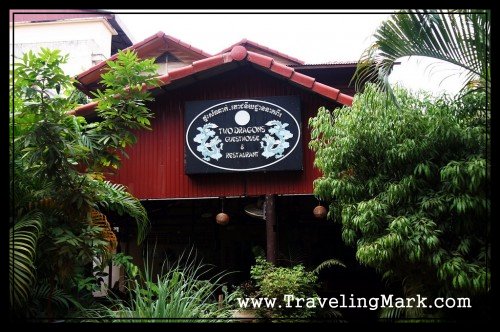 Why I Chose Two Dragons Guesthouse
Prior to leaving for Cambodia I have contacted several guesthouses, homestays and low scale hotels in Siem Reap about their availability and pricing. I specifically wanted to know which establishments offer special pricing for long term stay (both week long and month long) since I was planning on staying in Cambodia for a while. In my email enquiry I have mentioned that I was interested in a single bed room with en suite shower (preferably with hot water).
In addition I also wanted to know if the establishment offers free pick up from Siam Reap airport, whether wireless internet is included in price and whether they had laundry facility on site that's available to guests.
Two Dragons was the fastest to respond. Before I was done contacting all of the guesthouses I wanted to contact, I had a reply from Gordon – owner and manager of Two Dragons Guesthouse. That was a big positive and this first impression made major impact. I have not heard from most other guesthouses till following morning. There were a few that took several days to respond – I did not deal with those at all.
After impressive first impression from Two Dragons Guesthouse and elimination of most other guesthouses because of cut and paste responses or not answering any or all of my questions, I was left with three of my favorites. The reason I eventually opted for Two Dragons was that it was owned by an expat, a westerner who's lived in Cambodia for many years plus I liked the approach Gordon is taking on his website – he's addressing right audiences in the right way. He's not too formal and says it the way backpackers would want to hear it. According to Two Dragons official website – twodragons-asia.com, they do not B.S. and provide truthful information based on what is best for the tourist, not on who offers them the biggest kickback.
On their website, Two Dragons management also claims that they have English speaking, reliable Tuk Tuk drivers who unlike many other Tuk Tuk drivers in Cambodia, can be trusted. All this information was presented in a very inviting way setting Two Dragons safely apart from competition. Given that a tourist is most vulnerable during initial hours of his/her stay and subsequently rather lost and confused for the following few days, staying at Two Dragons seemed like the best starting point.
Two Dragons Review – First Impressions
So far so good. I re-contacted Gordon two days prior to leaving Canada to make sure everything is in place and driver will be waiting for me when I arrive in Siem Reap. As before, the response was prompt and affirming, leaving no doubt that Two Dragons has reservations taken care of with no room for mishaps. This feeling of everything being in place made it all easier on me, since I knew my arrival in Cambodia will be proceeded by more than 24 hours on the airplanes and at the airports and by the time I get to Cambodia all work out and tired, it will be late night there. I'd be an easy prey for vulture like scam artists who operate at international airports of third world countries.
As promised, driver waited for me at Siem Reap airport, delivered me to the guesthouse without hassle and guesthouse staff took care of the rest. I got the room and was left alone to get some sleep after long flight. The very beginnings during which a tourist is most vulnerable were taken care of wholesomely by Two Dragons. There were no screw ups in the beginning while I was extremely cranky and in desperate need of some sleep.
The Room Review
I was given the room #15. Something is telling me that this is the shittiest room in entire Two Dragons guesthouse. During the day, when girls who work at the guesthouse clean other rooms and doors are open, I could see inside that each other room was nicer than mine. Maybe I arrived when this one was the only one available, and while I don't have any major issues with the room, I'd say that anyone looking to stay in Two Dragons who is not dead tired when they arrive, asks the staff to show them each of the available rooms and choose one they like the best prior to unpacking.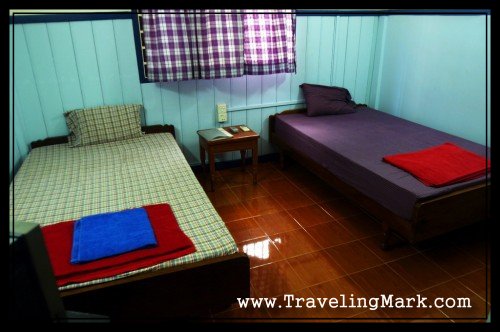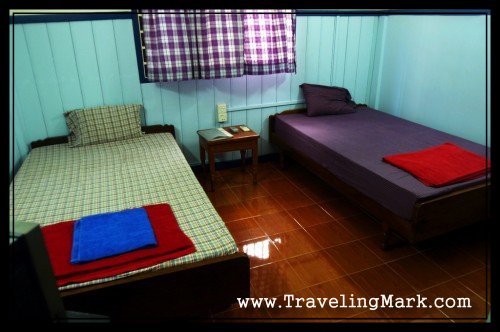 The room I was in was small in size, but that's all you need. It had two beds on each side of the wall, small coffee table, tiny little TV set on a stand, nice looking imitation wardrobe made of bamboo, a chair made of bamboo, a ceiling fan and an air-conditioning unit (all rooms at Two Dragons are air conditioned). The room also had en suite washroom with sink, heated shower and toilet bowl.
Two Dragons proudly claim that their room are the cleanest in Siem Reap (or something like that). I have never had any issues with non cleanliness so even if that may be an exaggerate statement, you won't be seeing chunks of dust under your bed or spider webs on the ceiling. First night I slept on one of the beds that stank, so I spent the rest of my stay on second bed in the room which was better.
I have never watched TV. I don't watch TV at home and as a matter of fact, I have not been on the tube, other than by watching my DVDs in years. Two Dragons website claims that they have over 80 international channels that you can watch. It's quite possible, though the TV set in my room was no bigger than 14 inches, which is really tiny.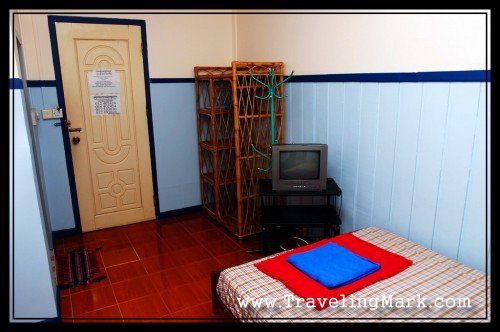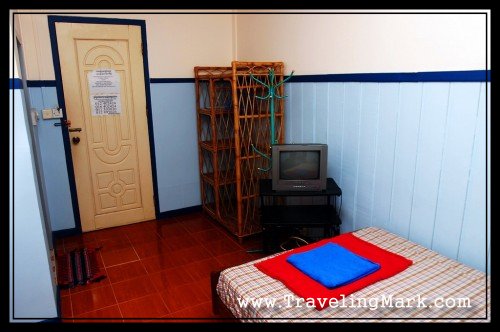 Two Dragons Bullshitting of Patrons
While Two Dragons do offer daily room cleaning services (not all guesthouses do), which is a positive thing, I didn't like the fact that they pull the same trick at their patrons as many other similar establishments. To bullshit you into not getting your towel changed daily, Two Dragons will pull the well approved trick about being environmentally friendly at you. This is the most jokeable and most cynical part of their business. On one hand they claim that at Two Dragons they strive to protect the environment and as such they would ask you not to request having the towel changed daily, yet on another you won't find anything about Two Dragons that would back up the statement that they do care about the environment. If they really cared, they would use eco friendly (energy saving) bulbs everywhere throughout their establishment. If they cared they would not be giving bottled water to each of their patrons, instead they would provide a dispenser of sorts. If they cared about the environment, they would use bio degradable cleaning solutions. But they don't. At Two Dragons they just want to save up on each customer so they make you feel guilty about the environment while true intention is to spend as little on you as possible. That's all. I hate bullshitters.
Two Dragons Staff Review
All staff members I have had an encounter with during my week long stay at Two Dragons were extremely nice and friendly. Room cleaning is done while you are gone and is done properly. I have always found my bed done up, sheets were probably changed a few times during my stay, garbage was emptied daily, fresh bottle of drinking water left in the room every day and my personal stuff never seemed touched. I left my money and IDs on the table while I was gone and always found it there.
There is allegedly a safe available for use by the guests, but there was some major headache attached to using it so I never did. I thought of shoving my extra money in it, but I didn't have any pouch to put it in so I'd have to hand them a pile of bills which seemed less tricky than burying it in the bag among dirty laundry.
Two Dragons Restaurant Review
I have only eaten in the restaurant here once. The reason – overpriced. Food was OK. It was nothing spectacular, but not bad either. However it was way more expensive than other restaurants hence not worth it. There were several restaurants nearby – literally just seconds away where I would go to eat. I'd pay half the money and get twice the food. It just didn't make any sense eating at Two Dragons.
The restaurant is also located by the entrance to the guesthouse so when a new guest comes, you get to listen to a lot of commotion while you're trying to eat. As a guest, you are however provided with complimentary tea and coffee that you can help yourself on the upper floor where the guest rooms are, right outside small balcony. I don't drink coffee so I can't comment on that, but the tea was Lipton Yellow Tea in separate bags that you dip in hot water from a dispenser. It was provided for free, so no complaints and I did help myself on a couple of occasions.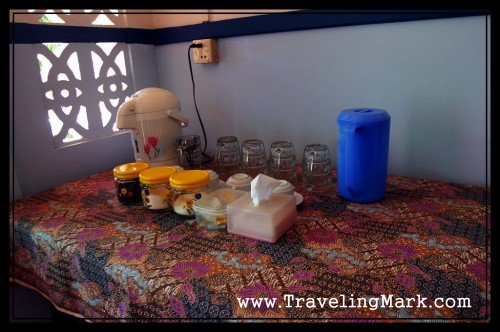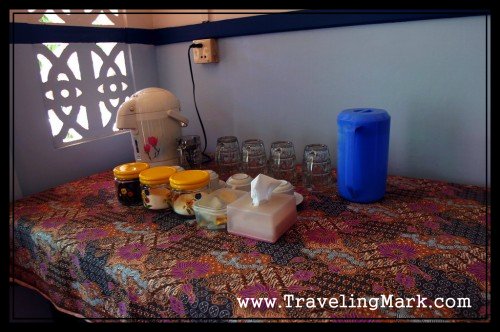 Two Dragons Location Review
Location of Two Dragons completely blows. It's too far away from anything interesting in Siem Reap, but most of all it's on an unpaved road so during rainy season, you get to plough through mud to get to and from the guesthouse. It truly sucked because I bought a bicycle to move around and most of town was fine – at worst a little puddle here and there. But the alley leading to Two Dragons was always covered in mud.
Otherwise the location is not beneficial for anything. Siem Reap really isn't big and it can be done easily on foot, but staying in Two Dragons puts all the action far away from you.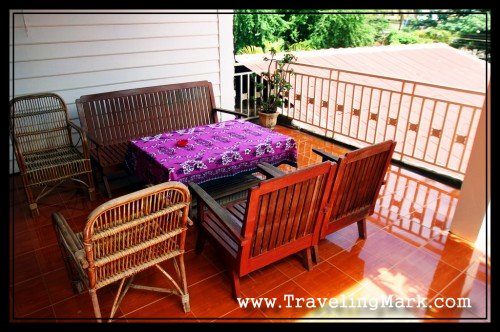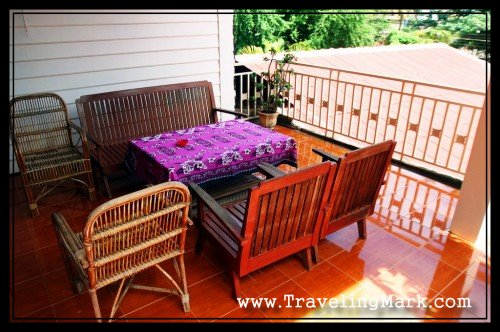 Two Dragons Advice Review
One of the things Gordon points out all the time is that he will offer a no B.S. advice to his guests and will tell them what is worth checking out, what is not, where to go to do this, where to go to get that – and all of it with interests of the visitor in mind, not his own. It sounds nice on paper, but is it really so?
I had two questions of Gordon after I first met him – I wanted to know about renting or buying a bicycle and I wanted to know about buying a SIM card for my GSM cell phone. In both cases I got advice that didn't fit the description of giving advice that most beneficial to the guest.
First I wanted to know how much their bike rentals were and where I should go if I decided to buy one instead of renting. I was told they rent bikes out for $2 per day. Most guesthouses rent bikes out for $1 but was not my concern. Gordon is the boss, he can set his prices any way he wants. Some of his guests ate in Two Dragons restaurant, I didn't see the point and went to the one around the corner where meals are half the price and you get a three course meal with desert for less than one dish at Two Dragons. If people are fine paying for Two Dragons food, it's their own business. And the same goes for bicycles and laundry service. Gordon charges $2 per day for bike rental and $2 to wash 1 kg of laundry. Shed right next to Two Dragons does 1kg of laundry for $1 and two sheds down you can rent a bicycle for $1 per day. I would take this 30 second walk just on principle, however many people are fine paying Two Dragon's prices and that's their own business.
After answering my question about how much they were renting bikes for, Gordon mentioned that I could buy a bike instead of renting form them if I wanted to stay for a while and ride while I'm here. He gave me valuable advice that cheapo bikes sell for $30, better ones for $50, however there are no quality mountain bikes available for sale in Cambodia. Only pieces of junk from China and overused second hand rejects form Japan. But whether I was going to buy or rent, I would still end up riding the same piece of junk, so it would make no difference. That's what I was told and 80% of it was true which is a decent ratio for free advice.
The following day I wanted to go take a look at what bikes are available for sale, so I asked Gordon where the stores were. He insisted that I take a Tuk Tuk ride there. I told him I was fine walking as I like walking, it allows me to see the town and besides – I've been walking everywhere so fat and given Two Dragon's location, I had opposite ends of town covered so wherever bike stores could be, I could definitely do it. However Gordon insisted that I take Tuk Tuk because it's too far.
I really didn't see where possibly it could be that I could not walk there, but eventually I broke down and agreed to taking Tuk Tuk. Needless to say – it was not far at all, which made it look as though despite what he claims, Gordon truly wants to get some business to his Tuk Tuk drivers for carrying his sign on the back of their trailers and for being his on call drivers. So this all blabber about only advising tourists what is best for them is questionable. He does give you advice, but it always involves taking one of his drivers to go there and do that. Afterall, expecting that there would be a business owner who would not think of kick backs when giving advice to a tourist who is looking to spend money on something is foolish.
My second question on Gordon was where to go to buy a SIM card for my phone. Again, I was told that tourists can buy a tourist SIM card which is only valid for a week and costs $12. To stay true to his intentions to hook his Tuk Tuk drivers with earnings (or maybe he keeps part of their net earnings – which would explain why he is so strung for everyone going everywhere and doing everything via his "approved" Tuk Tuk drivers), he added that a better option is to ask one of the Tuk Tuk drivers to buy me a regular SIM card, put it under their name and give them few extra bucks for doing that for me.
Good thing was I didn't let him get me a Tuk Tuk driver to take care of it for me, like it was with the bicycle fiasco. This time around I said I was gonna think if I want a SIM card at all and went to do my own research myself. As it turns out, you can buy regular SIM card without problems. I bought one for $3 which comes with $4 worth of within network calls (charged at $.06 a minute) and $2 worth of cross country calls (charged at $.09 per minute). These minutes must be used within a month or else they expire and the card must be recharged within following two months or else the number expires. You do not need a Tuk Tuk driver to get yourself a SIM card for a GSM phone in Cambodia. And this is the first cell phone company I enquired with (Metfone). There are 9 of them in the country. Once again, I was forced to doubt real intentions behind Gordon's vehement attempts to make sure he hooks up his Tuk Tuk drivers with income. The claims that at Two Dragons they don't B.S. and don't advice anything for kick backs are truly questionable.
Two Dragons Free Internet Review
This was my biggest pet peeve of all. Given the nature of my work, it is absolutely essential for me to have internet access. Two Dragons comes with a promise of free WiFi wireless internet. The only catch is, that it sucks like no other. Most of the time the internet doesn't work. It's either completely down or not down, but nothing loads and times out. On an important day I was trying to submit one article to a website. I started at 7pm and by midnight it was still not sent. I had to put it off till the following day and even that took a good chunk out of my day just to submit one silly article. WiFi internet you get at Two Dragons is simply awful. If you regularly update your website or need to keep up with friends on line and choose to stay at Two Dragons… oh boy! You're in for an unpleasant surprise. Even as I'm writing this review, I can see that WiFi is again down and there is no knowing when it comes back up. It's the most frustrating feeling ever. I spoke with several people who stay in other guesthouses, none have this type of issues with internet.
I did not come to Cambodia expecting to get high speed internet similar to what we have in Canada. But internet that doesn't work at all is B.S. – as owner of Two Dragons would say. This alone would be a good enough reason on its own for me to seek different accommodation arrangements.
Internet is yet another reason to believe that despite what they claim, the Two Dragons management does B.S. their patrons. In a booklet provided in guestrooms, it is stated that there is not enough bandwidth allocated for Cambodia hence internet is often slow and unreliable. This fact is used to force people into limited use of the internet, restricting it to email checking and no videos, no webmail chatting or anything similar. The guests are reminded that they will be cut off should they burn any more bandwidth than what the management of Two Dragons likes.
I can imagine that this scare mongering works well given what Siem Reap is all about – most tourists to make it here only stay for a day or two and spend them exploring Angkor Wat temples. If it were not for Angkor Wat, Siem Reap would be nothing with no tourists making it here. Still, since tourists come here with particular purpose and leave once this purpose is fulfilled, they will have little chance experiencing real Cambodia and what it has to offer. And if such tourist chooses to stay at Two Dragons, they will believe what they are told. Most tourists who stayed at Two Dragons have probably left Cambodia believing internet truly is slow and unreliable and there's little bandwidth for this country so checking YouTube videos or chatting over Skype with webcam feature on will kill entire system. But after you have explored real Cambodia for a bit and tear yourself away from Two Dragon B.S., you will get to see that it's nothing like it's presented to you there.
You can go for nice supper at Khmer Family Restaurant on Pub Street, Siem Reap – WiFi internet is provided to their patrons for free. It's fast, reliable, always works and always flies. You have no problem playing video, no problem engaging in any internet activity you are used to and no one will mind, because they simply did not cheap out on crappy internet they provide to their clients.
You will get exactly the same at Temple Club. Lightning fast internet with no restrictions. Another awesome option is to go to the Common Ground Cafe where internet is also fast and reliable. All you need to do is to order a drink with them, and get a password for security enabled wireless internet. And you're on. You can come any day, any time of day and it will always fly, and no restrictions will be imposed upon you. Two Dragons simply like to B.S. their client with lots of B.S. and unfortunately, since most clients don't stay in Siem Reap for too long, this B.S. goes unnoticed.
Few Random Negatives
There is this buzzing noise that seems to be omnipresent throughout most of Two Dragons. It sounds as if there was a big transformer somewhere within the walls that makes buzzing noise and while most of the day it's negligable, it was awfully loud on my second night at this guesthouse. It was deafening. I was working on the computer, trying to get something submitted on the internet, but connection here is ridiculous and this noise was just buzzing and buzzing until my head felt like it was going to explode. I was trying to locate it, but it seemed like it's spread throughout the building. I walked out on the hallway and it was there too. It was everywhere. Since it was past midnight and everyone was asleep, I didn't know what to do about it, so I just suffered through it. It eased down the following days again, even though it was still remotely present.
The drain in my bathroom did not drain very well. bathroom is extremely small and houses both toilet, sink and shower. You basically spray all over the toilet bowl as you take shower and need to move the toilet paper out in order not to get it wet during showering so you can use it afterwards. The excess water from showering didn't drain very well so as you are taking your shower, the level keeps rising with hair and soap dirt floating in it.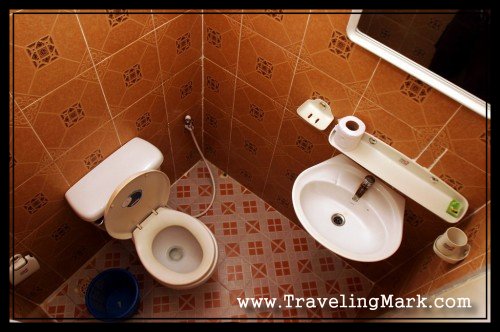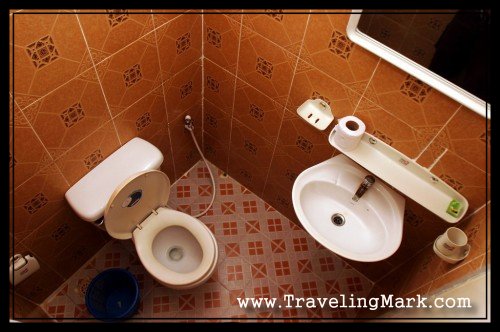 Two Dragons Review – Conclusion
GOOD:
Discount for Long Term Stay Possible
Responsive with Pre Sale Enquiries (very strong positive)
Rooms have Air-conditioning and En Suite Washrooms
Non Smoking Rooms (smokers can smoke on the balcony)
Clean Rooms Attended to Daily
Daily Free Bottle of Water
Credit Card Payments Possible
BAD:
More Expensive than Equally Good or Better Guesthouses
Shitty Location
Shitty Internet
Too Much B.S. Pretending to be Help (worst kind of B.S. – very strong negative)
As far as rooms themselves are concerned, I think Two Dragons would satisfy most visitors to Siem Reap. Everything else is a downer. The owner doesn't care about repeat customers and will do anything to rip you off as much as humanly possible on your first stay. Most visitors to Siem Reap will not pay Cambodia another visit so he's fine with ripping you off. If you're a smart traveller and find out how things work for yourself, without asking Gordon for advice, you will avoid getting ripped off. If you make a vital mistake and do ask for advice, you will be taken advantage of. You could just ask a simple question, Gordon will immediately get one of the girls who work at Two Dragons to call a Tuk Tuk driver claiming you need him for everything you do and even though you insist on not calling, the girl will already be on the phone making arrangements in a language you don't understand, ultimately forcing you to feel obliged to accept the arrangements made. One former American lawyer, a 61 year old expat who now lives in Phnom Penh had a misfortune of staying at Two Dragons and Gordon made such forcible arrangements for him which resulted in the guy overpaying $20 for a taxi ride.
Even though rooms are clean and attended to daily, I would not recommend Two Dragons to anyone. Value for money is not quite there – you can find better and less expensive accommodation that's also at much more attractive location so Two Dragons really make little sense. But the owner is the main problem. The only way to not get ripped off is to never ask for anything and never use any of their services other than accommodation. You will feel like you are not welcomed, you will feel like they consider you an unworthy guest (that's the way I felt, because I went to eat at restaurants that were not overpriced and have not fallen for any of Gordon's rip off attempts) so while every other guest will be talked to and greeted nicely, you will be either ignored or just dealt with quickly. But it will save you from getting ripped off.
Despite this unspoken tension, I kept to my promise and remained at Two Dragon guesthouse for a week. As soon as my time was up, I darted off and will not consider ever staying there again. In addition – the more people I meet who stayed there, the more stories of having been ripped off come up. As the time went by, I stayed at over a dozen of guesthouses, some as cheap as $3 a night, yet Two Dragons still ranks as the worst place I have stayed at in Cambodia.
ADDITIONAL PICTURES OF TWO DRAGONS:
Two Dragons Guesthouse Siem Reap Photo Gallery