New day, new Angkor temples to explore. I went to do the rest of the temples on the small circuit but this time around doing it the right way – counter-clockwise so as to catch them in good lighting, with sun illuminating their faces, not backs (temples are normally built facing east). Prasat Kravan, small five tower temple from the 10th century the name of which means Cardamom Sanctuary was the first on the way.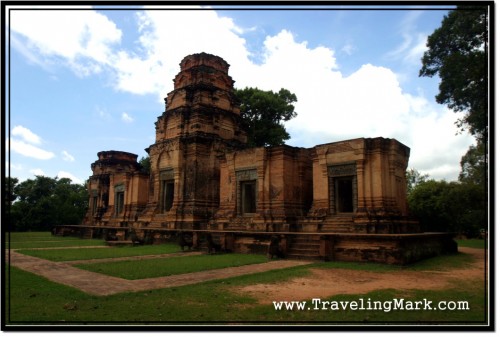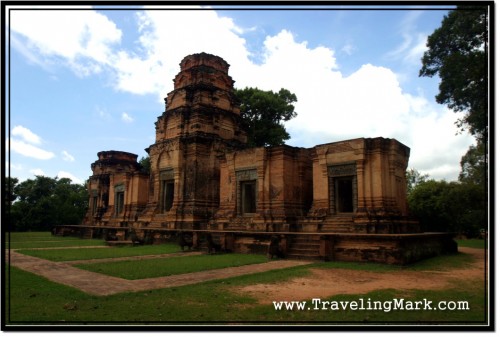 According to the inscription on the temple's door jambs, Prasat Kravan was dedicated to Hindu god Vishnu and had a statue of it placed within in 921AD. Moat once surrounded Prasat Kravan, but there was but a big puddle of it left when I visited the temple. Several carvings of Vishnu and Lakshmi decorate the interior of central and northern towers respectively, with the other three were left undecorated. Prasat Kravan underwent extensive restoration works and was brought to its current splendour in 1968.
Researchers are divided as to the sponsor of Prasat Kravan with some believing it was king Harshavarman I who ordered its constructions while others say it was Isanavarman II. Then they are some who maintain it was not the king who had the temple built, because of its unusual location and architectonic style. Either way, stone masons who built the temple sealed it so well the mortar-free joints are as tight today as they were a millennium ago. The bas reliefs found within the temple's interior resemble the art of the Cham people which makes Prasat Kravan unique.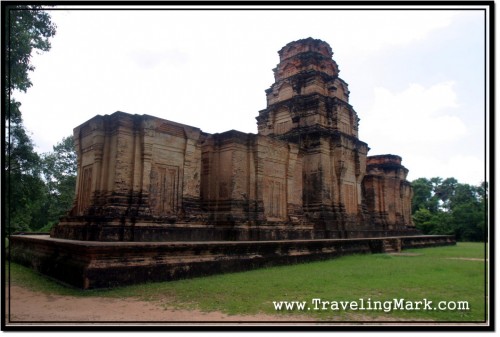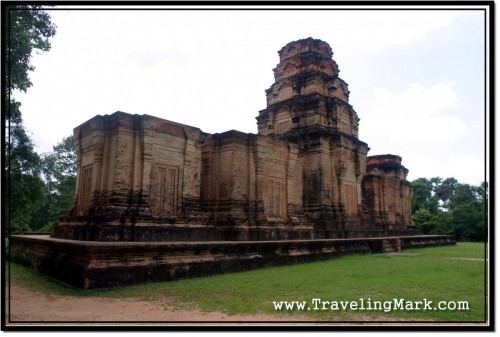 Doorway of the central (tallest) tower is flanked on both sides by 2 meters tall carvings of guardians sculpted in sandstone. Stone lions also guard the stairways leading up to each of the towers but nowadays only five are still there, the other five are missing (probably decorating a villa of some millionaire who paid a few bucks to the thieves who stole it). Central tower is the tallest of them all, but south tower still has two layers of the roof that may have once decorated each of the towers. Because Prasat Kravan faces east, the doorways to the towers are on the eastern walls but all other walls contain their own set of fake doors.
Prasat Kravan is a smaller temple so it is often skipped or avoided by large tour operators. Because of that it's not as overrun with touts and pestering children as other, bigger temples on the small circuit. There is a line of shops along the side of the causeway leading to Prasat Kravan with sellers getting in your way as you approach the temple to force you into pausing so they can pester you into buying something from them, but luckily they are not as plentiful as causeways to bigger temples.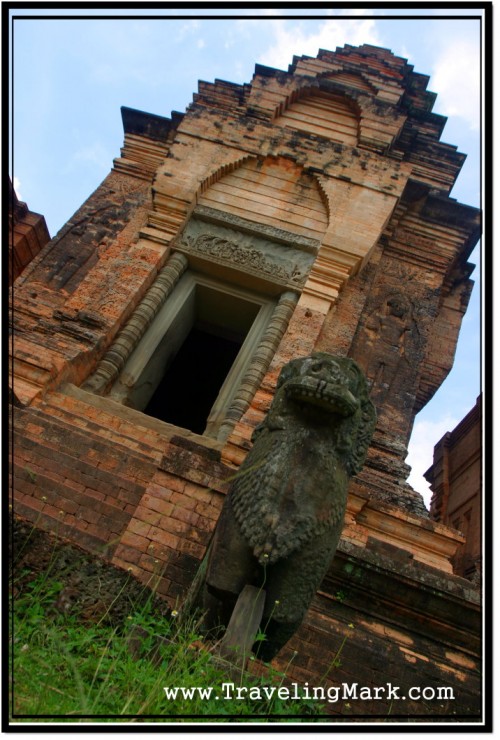 Prasat Kravan is a smallish structure so it only takes a few minutes to thoroughly explore, but while I was there, I was approached by two separate individuals who attempted to pull the same guide trick as that guy at Thommanon did. They walked right up to me and started telling me about interesting facts related to the temple and advising me of good photography angles seeing that I had a big camera hung on my neck. Having had this attempted on me before, I knew very well where this was going to lead and just vehemently ignored each of the men, strictly following my own pace and going where I wanted to go, not where they said I should go. It worked and each of them gave up after a couple of minutes.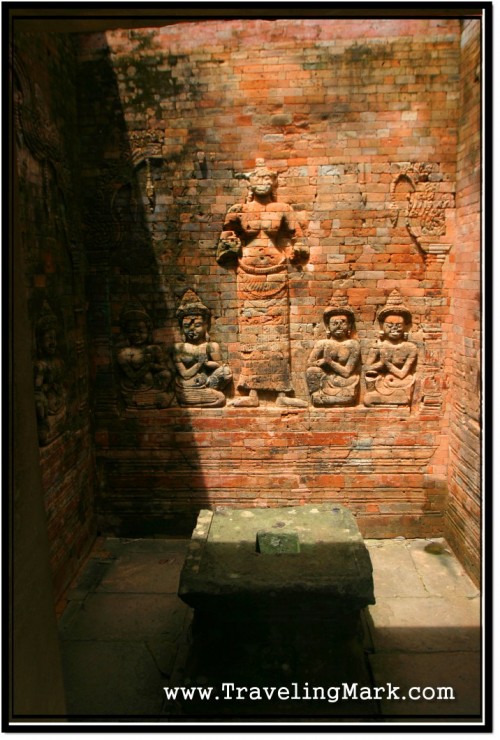 It was early morning yet, but the sun was already beyond intense. Prasat Kravan was my first stop of the day and I was already drenched in sweat. I had a long way ahead of me and a lot of bike riding to do. I replenished lost fluids out of the bottle of Water O I had on me, mounted my bike and rode off to the nearby Bat Chum ruins.