After munching on true Peruvian ceviche, and enjoying a few games of pool followed by a couple of Cusquena beers, Maria returned home to spend the night with her family while I went to the room rented from the Spanish woman in San Miguel. In the morning of the following day we met up, and went to the La Punta district in Callao.
La provincia constitucional del Callao (the constitutional province of Callao), while technically a part of Lima, is administered by its own government that's independent from that of the nation's capital.
Twice resurrected from the ruins, Callao's history is shrouded in myths and legends of submerged cities, as well as stories of pirates and hidden treasures.
Foreigners don't tend to have Callao on their itinerary, and for the most part – rightly so. It's a low income, high crime area that in many places resembles ghetto. It's home to Peru's main port, which has served as the main port of the Spanish colonies since 1537, but visitors arriving by way of cruise ships are warned by the staff and the tour guides not to venture into Callao because of the out of control levels of crime.
The one area of Callao that stands out is La Punta – the upscale home to luxurious mansions, with works in progress on remodeling its Malecon.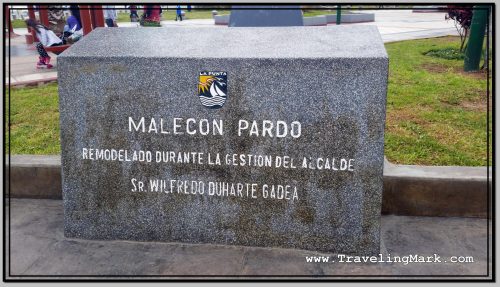 Lined with narrow cobbled streets, the smell of fresh fish floats in the air around La Punta, as delightful restaurants along the waterfront invite you in for "mariscos" (seafood).
If you tag along swimwear, La Punta also has a stretchy beach (Playa Cantolao) with round rocks in place of sand, which, albeit challenging to walk on barefoot, are said to provide therapeutic reflexology effect to the feet of those who brave them. The Pacific Ocean water at the beach, however, is cold so you'll also need to tag along thick skin.
Even though weather in Lima is not sunny this time of year, the temperature was comfortable with it being neither hot, nor cold, nor windy. We paused on Malecon Pardo to enjoy the sound of waves and watch the ocean for almost an hour. It was very relaxing and bonding.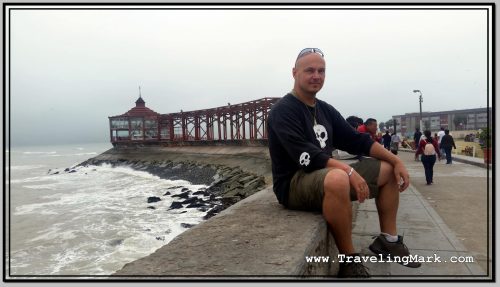 While Callao deservedly has the reputation to back up its rough environment, and the abundance of soldiers with machine guns patrolling its streets was a frequent reminder of the type of area Callao is, the Colonial houses that add color and character to Callao may be worth one's while. Nevertheless, even though I have never encountered any kind of trouble in Callao, I wouldn't recommend anyone wandering there without a person who knows the area.
Malecon Pardo as well as the rest of La Punta are a whole different story and are generally safe and rewarding to visit.