The rule of Khmer Rouge ended more than 30 years ago, but the genocide in Cambodia continues. Even though Pol Pot, the leader of Khmer Rouge is dead, Hun Sen, one of former Khmer Rouge henchmen keeps his legacy alive. Hun Sen's genocide may not as fast paced as Pol Pot's was, but with more than a million people killed as a result of Hun Sen's rule, it is clear that only the names have changed, the oppression remained the same.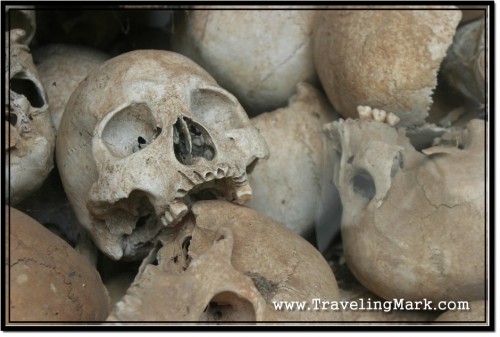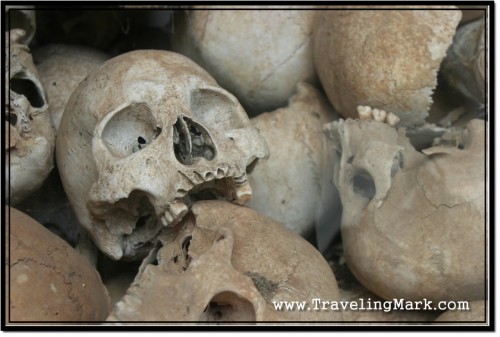 The rule of Khmer Rouge caused an international uproar and had to be buried. This was a cue for Hun Sen and his Cambodian People's Party to enter the scene and gain control over shaken and divided nation. Hun Sen killed or silenced everyone in his path until his grip on power was iron strong, continuing with the genocide right where Khmer Rouge had left off.
Ta Mok
30 years later, people are still being killed, opposition is still being silenced and Hun Sen is in no rush to prosecute Khmer Rouge leaders. Ek Choeun, aka Ta Mok, aka Brother Number Five, aka Butcher – one of Khmer Rouge's most prolific killers remained a powerful figure until 1999 when he was apprehended but his trial was being purposefully delayed.
Duch
Kang Kek Iew, aka Duch – the infamous leader of the Tuol Sleng Prison (S-21) in Phnom Penh, under whose command at least 14,000 Cambodians and 8 Westerners were brutally tortured and eventually killed spent several years after fall of Khmer Rouge roaming freely throughout Asia, working as a teacher in Thailand and China. He resurfaced in Cambodia as a new-born Christian and became a lay pastor until the 1999 interview with investigative photo-journalist Nic Dunlop in which he disclosed the details of Khmer Rouge atrocities. Duch surrendered to Cambodian authorities following the publication of the interview but the trial has been dragging with no sentences being handed down.
Being former Khmer Rouge and closely identifying with the genocide, Prime Minister Hun Sen wanted to prevent the prosecution of his fellow Khmer Rouge comrades and declared that in the name of national reconciliation it would be best to bury the past and let the Khmer Rouge generals live freely until an old age has taken them. If it weren't for strong international pressure, neither Ta Mok, nor Duch would have gone to prison. Yet the only reason Hun Sen decided to please the international community was so it continues supporting his corrupt government with billions of dollars from taxes of western taxpayers. In his undying selfishness and greed, he agreed with imprisonment of his Khmer Rouge comrades. But prosecution and sentences are still being delayed.
Duch has been a bit of a pain in the neck for Hun Sen and his corrupt government as of late, though. Stating that he feels sorry for his deeds as a leader of S-21 Tuol Sleng prison camp he is determined to go all out, dusting off a bunch of closeted skeletons with a tell-all. These types of confessions could bring the likes of Nuon Chea – second in command and Pol Pot's right hand – into a spotlight, for ordering Duch to kill US citizens Michael Scott Deeds and James Clark along with six other westerners and burn their bodies with tires so there are no bones left.
Nuon Chea
Unwilling to prosecute Nuon Chea, Prime Minister Hun Sen agreed to forsake the prosecution of this man who's known for having been the second worst Khmer Rouge. Nuon Chea was allowed to live freely after his atrocities until 2007 when as a result of international pressure, he was charged with war crimes and crimes against humanity. Just as it goes in Cambodia, no sentences have been handed down in his case. Meanwhile, the genocide continues.
Ieng Sary
Ieng Sary was also granted freedom until 2007 when international community put too much pressure on Cambodia for not prosecuting the Khmer Rouge criminals. Considered to be one of Khmer Rouge's worst, Ieng Sary was sentenced to death in absentia along with Pol Pot after the overthrow of Khmer Rouge in 1979. Jokingly enough, he was pardoned by Cambodian King Norodom Sihanouk in 1996.
Khieu Samphan
Even though Pol Pot was officially the leader with executive power over Khmer Rouge, Khieu Samphan bore the title of the president of the state presidium of Democratic Kampuchea. That would make him the leader on paper, but in reality the real leader was Pol Pot. He enjoyed undisturbed freedom until 2007 and made his first appearance at Cambodia's genocide tribunal in April, 2008 in which his defence lawyer claimed his client was never directly responsible for the genocide.
Pol Pot
As the leader of Khmer Rouge, Pol Pot was directly responsible for the Genocide in Cambodia between 1975 and 1979. Estimated 1.7 to 2.5 million people died as Pol Pot's people tried to cleanse Cambodia according to the Maoist ideologies. After the invasion of Cambodia by the Vietnamese army lead by the Khmer Rouge traitor, current Cambodia's prime minister Hun Sen, Pol Pot fled to the jungles near the border with Thailand and operated Khmer Rouge from there. Up until 1997, Khmer Rouge was recognized by the United Nations as the rightful government of Cambodia. Pol Pot died a year later, on April 15, 1998 in his home while under house arrest, but lived to be a mass murderer until the end of his days. Son Sen, life-long right-hand of Pol Pot and eleven members of his family were executed upon Pol Pot's orders on June 10, 1997 following the speculations that Son Sen was trying to make a settlement with current Cambodian government.
Hun Sen
Perhaps the most notable Khmer Rouge henchmen, especially considerable for being still alive and still in control of Cambodia is Hun Sen. This mass murderer has blood of more than million people on his hands and an overall horrible human rights track record. Under his rule, the genocide in Cambodia is still ongoing, only now it took a sneakier, more sophisticated form. Hun Sen removes everyone in his path and strengthens his grip on power with the use of power. He is one of the most dangerous criminals in the world today but his genocide is so clever, instead of facing international condemnation, he enjoys international aid that amounts to billion US dollars a year. This money, which comes from the pockets of western taxpayers is sent to Cambodia to help weak economy but ends up laundered in the pockets of Hun Sen and people close to him. Meanwhile, direct opposers of Hun Sen are silenced while millions of Cambodians live on less than $1 a day, completely deprived of health care and education.
Khmer Rouge Today
Khmer Rouge is dead – on paper. But thousands of henchmen recruited as children to kill dozens of people on daily basis are now in their 40's and 50's and are all over Cambodia. These people still possess military grade weapons and explosives that float around Cambodia uncontrolled and unregulated. With the police force being as corrupt as the government that controls them, crimes don't get investigated, unless it somehow affects the senior officials. The Khmer Rouge henchmen are out there, all over Cambodia ready to off anyone for $50. Or for free, if you piss them off or get in their way. Your body would be thrown in the jungle where wild dogs would eat it to the bone. Noone will ever hear from you again and noone in Cambodia will care. After you have been offed, the Khmer Rouge assassin that murdered you will wait around for his next $50 job.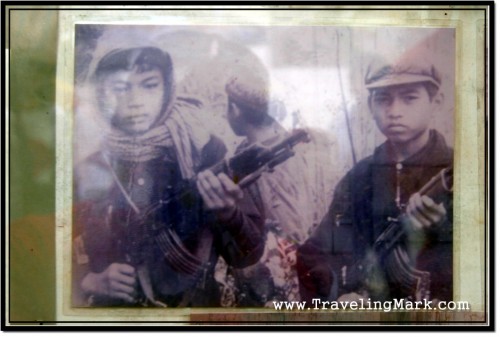 Interpol's Most Wanted Fugitives
More than a hundred of Interpol's Most Wanted Fugitives are former Khmer Rouge killing machines who are allowed to roam Cambodia freely and call it home after their government refused to bring them to justice. Thousands more call this country their home and just as their "Most Wanted" comrades, they are as dangerous and as used to kill and get away with it. They've been killing since they were 14 and never faced any repercussions for any life they took. Do you think much has changed now that they are 45?
Dangerous Cambodia
Cambodia remains one of the most dangerous countries in the world. Judiciary system is corrupt, the police force is a joke and only installed to shelter the illegal activities of their government. All that while serial killers with millions of guns available to them hang around in all areas.
Khmer Rouge is dead – on paper – but don't let its demise fool you. The genocide in Cambodia continues unhindered with armed, middle-aged men pulling their weapons out when they don't get their way. To give false perception of a safe country so the influx of hard currency that tourists bring doesn't stop, the corrupt government skews the crime statistics and it does seem to be working. No one would dare to travel to Cambodia during the Khmer Rouge years, yet even now, more than 30 years later the country remains as dangerous as it was in the late 70's. Violence is still part of the nation's culture, only since the fall of Khmer Rouge, it hasn't been making international headlines.