As I was walking the hallway of the Two Dragons guesthouse trying to locate where the buzz that prevented me from sleeping was coming from, I noticed small lizards on the ceiling. It was something I have not seen before. Clearly nocturnal creatures, these night lizards (name I have given them) like sticking to the walls and other surfaces close to sources of light. Their amazing ability to stick to any surface and move smoothly along it was astounding. The night lizards were like flies, except that they couldn't fly and were much bigger and heavier.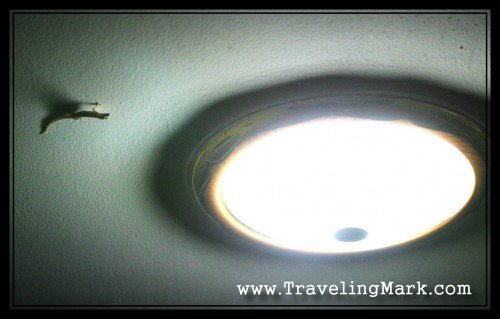 I could understand flies and their ability to sit head down on the ceiling, but these were lizards. There surely is more weight involved and no wings. I could not wrap my head around it so I just admired. Their movement is really cute – they just swing their bodies left and right as they knit swiftly with their legs. Very smooth, very elegant and most of all impressive in their ability to walk on the ceilings.
I have noticed those night lizards all over the place afterwards. They are as ubiquitous as Tuk Tuk drivers and prominent at night. You can find them sitting on the walls and signs where there is light. They also quite obviously change body color to adapt to their surroundings – quite possibly an ability to protect themselves from predators (night birds?). When they sit on a white plastic signs, they are entirely white, when they are on a wooden plate, they would turn darker to blend in and similarly, whatever the colors of the surface, their skin would change accordingly.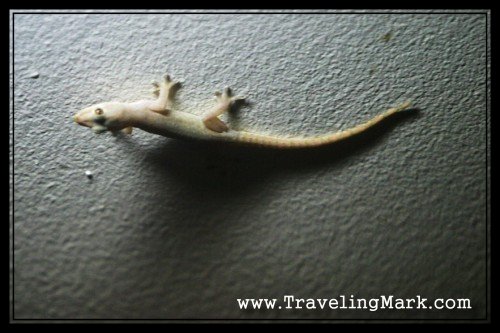 The night lizards are a bit tricky to take a picture of as it's always very dark when you see them and they are rather tiny – ranging in size from one to four inches (at least most of them do). The movement is something I can't capture on still camera, but it's really cute. Their body wiggles to the sides and they are rather swift. Also a bit shy so when you get a bit close, they would move away. I've seen them also playing – one chasing another in circles. They are really nothing unusual and if you ever come to Cambodia, you will stumble across dozens on your first walk outside after dark.
When I asked locals about these night lizards, I found them all referring to them as "geckos". Perhaps they are geckos. I'm just used to seeing geckos that are much larger, but it doesn't mean that these little creatures don't grow rather large at one point. It's really relaxing watching them during sleepless nights. They are very swift in their movements and able to capture flies in their mouth. The reason why they stay close to sources of light is because that's where tiny night flies gather which creates profound source of food for these geckos. Smaller ones only eat fruit flies, but larger ones also go for mosquitoes and each creature that eliminates mosquitoes is my friend.