The first thing that went through my mouth in Cambodia was Angkor Beer. I went to have my first Cambodian meal at Khmer Family Restaurant on Pub Street in Siem Reap and since I was there in the morning (aka while business is slow, as Siem Reap comes alive in the evening after tourists have returned from exploring Angkor Wat temples), the "happy hour" value prices were in effect (happy hour lasts form opening until 6pm – they call it "happy day" since it's in effect most of the day, rather than just for an hour). Drink was included in price of meal which only totalled to $3, making it an overall great deal for a westerner. The choice of free drink included local beer, soft drink (coca cola or similar) or fresh coconut. Fresh coconut sounded tempting, but coconuts taste pretty much the same everywhere in the world. I wanted to get a taste of local cuisine and local drink. Beer was my pick.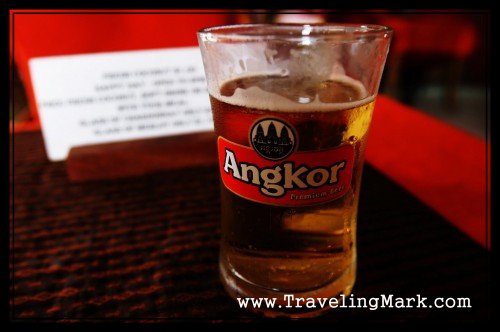 Since food is prepared fresh on per order basis in the kitchen of each restaurant, it takes about 10 minutes to get it on the table after ordering. You can enjoy your drink while you're waiting which is served quickly. I was truly looking forward to my beer which came soon after ordering and bore the name of place I came to see – Angkor Wat.
Angkor Beer prides itself on being the National Beer of Cambodia. I thought that name must count for something and sure enough, the beer tastes great. I consider myself being a little bit of beer connoisseur (or at least a passionate beer drinker – explains the beer gut on me) so I truly appreciate quality beers. And Angkor beer does not lack in taste regard. I have never felt any unpleasant after-taste following a thirsty gulp. Angkor Beer always comes down your throat smoothly and feel very enjoyable to drink.
Drinking Draught Beer in Cambodia
Cambodian laws are not as strict about alcohol as laws in my home country of Canada so beer is served freely in most establishments. You will see signs advertising sale prices for draught beer set down to $0.50, often claiming that this is today's special. It's never a special, these are regular prices offered by each establishment every day, they just use fancy advertising slogans to entice you into buying a beer from them. More upscale bars and clubs sometimes sell draught beer for more (Temple Club charges $0.75, Island Bar in Night Market sells draughts for $1).
The only thing that sets draught beer served in Cambodian establishments apart from draught beer at home is size. Sure, beer here is darn cheap ($0.50 for a draught is a great price any way you spin it), however you are not getting a whole pint for this money. I don't know how much exactly it is, but it looks like it could be half pint. Still great price for draught beer, just be ready for drinking from the smallest beer glass you have ever seen.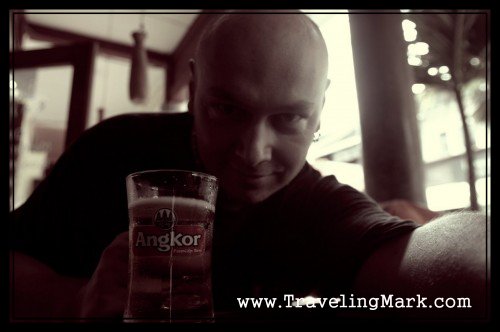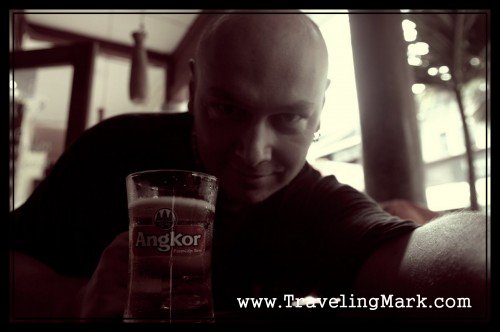 Angkor Beer Factory in Sihanoukville
I was interested in learning more about Angkor Beer as I truly did not think they knew much about brewing beer in Cambodia, nevermind brewing of tasty beers. I was wrong. Cambodians are actually big beer drinkers and the history of beer drinking goes a long way back in Cambodia. There are pre-historic drawings in caves showing drunk men laying around after drinking rice beer from coconut shells. Not much has changed in this regard to this day. Cambodians still enjoy drinking beer and do so each time there is an occasion worth celebrating (basically any time).
Angkor Beer is brewed by Cambrew in Sihanoukville, Cambodia – the town most famous for best Cambodian beaches. I have not been to the brewery nor Sihanoukville itself yet (though I'm planning on going soon), but I've heard the brewery is on top of the mountain overlooking Sihanoukville, only about 10 minutes from downtown.
Angkor Brewery started brewing Angkor Beer in 1963 and produces over 250 million cans of beer per year, making it the biggest beer brewery in Cambodia. Aside from being the most popular beer in Cambodia enjoyed by both tourists and locals alike, Angkor Beer is also exported to countries all over the world.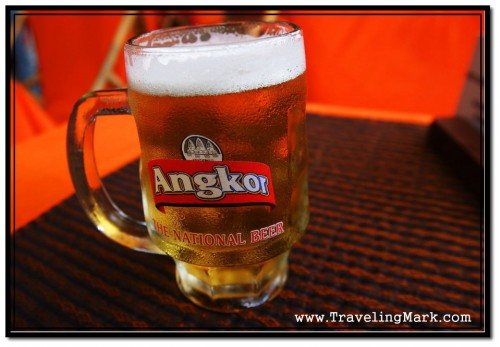 Other Cambodian Beers
While Angkor Beer seems to be the most popular and most served beer in Cambodia, it's not the only beer produced by this beer hungry country. Tiger Beer seems to be on the rise with lots of advertising and sponsorships of major sporting events across South East Asia. Anchor Beer seems to ride the tail of Angkor Beer by having the name that resembles the more popular alternative. There are also rumors that Carlsberg Beer will be opening a brewery in Cambodia soon. Japanese Asahi Beer is also available throughout Cambodia, even though it's usually a bit more expensive.