This notion that the American tourists are obnoxious and nobody likes them has been around for a very long time. Where it came from, who started it and what substantiated it is unknown to me. It just somehow spread around, everybody knows about it and it's considered to be an unspoken truth of international travel.
Needless to say – I was just as aware of the notion as everybody else is when I started my trip around the world. Still, I never took it for anything more than an urban legend that never goes away.
I spent two years traveling around South East Asia and had several encounters with travelers from the USA, but none of the encounters was long and/or deep enough to draw solid conclusions on. Things however started to come to a different light during my two month stay in Kota Kinabalu in Sabah, Malaysian Borneo.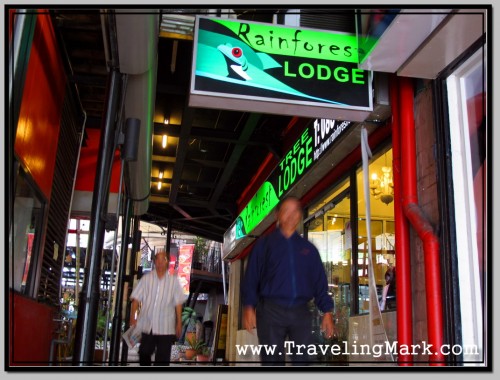 I interrupted travelling and settled for two months to wait out the Christmas and New Year holiday seasons, to avoid needlessly overpaying the way I was forced to the year prior in Thailand.
World Challenge Borneo
During the course of my two months long stay in Kota Kinabalu, I had over a dozen encounters with groups on World Challenge tours. I spoke briefly with participants and the conclusion I drew from them was that these were spoiled kids of wealthy parents. For $6,000 a month, these kids got to see orangutans, hiked the headhunter's trail, climbed Mount Kinabalu, visited caves, trekked jungles to reach spots where Rafflesia – largest flower in the world grew and did a whole lot of other things kids whose parents can't afford to shell out $6,000 a month could never get to do.
On their month long Borneo Adventure, the World Challenge kids also made a stop in Kota Kinabalu and it just so happened, that many groups stayed in the Rainforest Lodge on Beach Street where I stayed. Each group consisted of people from the same area – they clearly knew one another quite possibly because they attended the same school or lived in the same neighborhood.
The fact that groups were not compiled of randomly selected individuals from different parts of the world could be easily observed by the fact that participants from each group spoke the same accent. The first group I had an encounter with were British. They were vastly respectful people, if a bit loud but only in the restaurant or other public areas.
Group of Australians which came in next was easily the nicest. Despite there being about 15 of them in the group, they kept their noise at acceptable levels affording other patrons to get peaceful rest.
Everything changed after the Aussies had left and a group of Americans checked in…
Obnoxious Americans
One would have to try really hard to find anything unpleasant about the experience with Aussie or British participants of the World Challenge Borneo who spent the Kota Kinabalu part of their tour in the Rainforest Lodge. Perhaps the only drawback was the need to wait for a long time just to get a turn at a toaster during lodge's complimentary breakfasts. It was nowhere near the same when the Americans checked in.
There was yelling down the hallway at all times. There was slamming of doors so hard whole building shook in its base. There was banging on the walls and doors of other rooms as they kept chasing one another up and down the hallway like nobody else lived there. There was spit all over door knobs and floor cause they thought it was funny. There was…
The following day, when I came down to the restaurant to have breakfast, I overheard every other guest complaining about "those people who spent the entire night banging and yelling and rudely bad mouthing everyone who dared to ask them to keep the noise down". Patrons from the same floor got no sleep whatsoever – I was one of them. Patrons from downstairs didn't fare much better complaining of too much noise from what sounded like a heard of bisons chased by a pack of wolves on the upper floor.
Regardless, patrons from downstairs at least didn't have to walk on floor covered with mud because the American kids thought it was funny to play a slide down the hallway, didn't have to watch what they grab opening their door in order to avoid getting someone else's spit on their hands and definitely didn't get the noise level of us whose beds were right next to their screaming yaps.
This torment lasted for two nights. None of the rest of us who also stayed at the Rainforest Lodge thought it could get any worse after the first sleepless night, but the Americans made a point at outdoing themselves and made their second night twice as painful. With bloodshot eyes and nerves pushed to the limit, the relief we all felt after they'd checked out was epic.
Rainforest Lodge fell quiet again. It was possible to go to the room and take an afternoon nap. It was possible to get on a laptop and respond to emails without a headache. It was possible to use shared bathroom and not walk on pissed on floor. It was, afterall, just the way you would expect it to be when you patronize a temporary accommodation establishment.
The Return of the Americans
I was not the only traveler who chose Rainforest Lodge for a longer term stay. Decent discounts were available for those who prepaid for a week or more in advance which is what I took advantage of. Several other travelers did that too and since I used to see them at complimentary breakfasts and in the computer lounge, we all acknowledged to one another the relief we felt after the departure of the Americans.
Unfortunately, it didn't last long. The same group of obnoxious and rude World Challenge participants from the United States of American came to stay at the Rainforest Lodge for two more nights a couple of weeks later. And just as was the case of the first time around, they turned everybody's stay into hell.
All one could hear from other patrons was:
"No wonder everybody hates f$%king Americans"
…and I had to agree. All of a sudden, the notion that everybody hates tourists from America – the notion I thought was unsubstantiated, an urban legend if you will, took on a real form and proved itself as deserved, reasonable and warranted.
Sure, one can't judge the entire nation based on action of a small group, but why was there such blatant difference between groups of the same age youth from other parts of the world? The only thing that set the group of rude, bothersome individuals from groups of respectful, decent people was the fact that the former were from the United States of America and the other from elsewhere. Could there be a pattern here we'd be fair not to overlook or ignore?
What this experience taught me was that in many common life situations, when people of other nations behave in a civilized way, showing respect for another by not interfering with their course of life in a negative way, the Americans do the opposite. Their complete disregard for another and expectance for others to put up with whatever they do because they are Americans makes them arrogant pricks who more than deserve the reputation that ushers their arrival.