When I was taken to the back of the Temple, I was offered a sight of large Reclining Buddha. The statue of Reclining Buddha is about 4 or 5 meters long. In other words it's impressively massive. I would not have seen it had that guy not taken me there. I thought the statue of sitting Buddha in the middle of temple was like an altar in Catholic churches. And most of the time it truly is that way. Large statue of Buddha is situation center stage within a temple, surrounded by various decoration pieces, often times including smaller statues of Buddha, candles, and other religious items. It was no different in Wat Preah Prom Rath Temple, but there was yet another Buddha inside there – a Reclining one.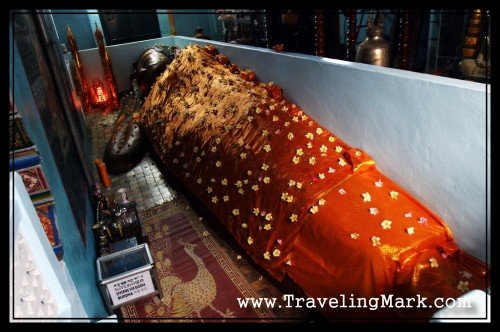 I have quietly snapped a few pictures of difficult to photograph Reclining Buddha (because of low light and large size). After I have walked out of the temple, I got a chance to read an information panel which explains the history behind Preah Ang Chong-han Hoy Temple (it's what Wat Preah Prom Rath was once called) and Reclining Buddha. The sign reads the following: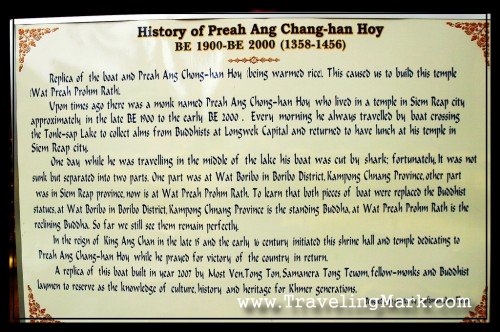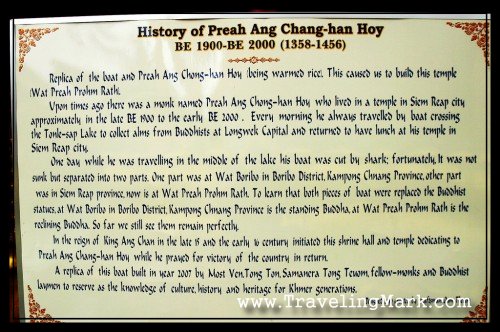 History of Preah Ang Chong-han Hoy
BE 1900 – BE 2000 (1358 – 1456)

Replica of the boat and Preah Ang Chong-han Hoy (being warmed rice). This caused us to build this temple (Wat Preah Phrom Rath).

Upon times ago there was a monk named Preah Ang Chang-han Hoy who lived in a temple in Siem Reap city approximately in the late BE 1900 to the early BE 2000, Every morning he always travelled by boat crossing the Tonle-sap Lake to collect alms from Buddhists at Longwek Capital and returned to have lunch at his temple in Siem Reap city.

One day while he was travelling in the middle of the lake his boat was cut by shark: fortunately, it was not sunk but separated into two parts. One part was at Wat Boribo in Boribo District, Kampong Chnang Province, other part was in Siem Reap province, now is at Wat Preah Prohm Rath. To learn that both pieces of boat were replaced the Buddhist statues, at Wat Boribo in Boribo District, Kampong Chnang Province is the standing Buddha, at Wat Preah Prohm Rath is the reclining Buddha. So far we still see them remain perfectly.

In the reign of king Ang Chan in the late 16 and the early 16 century initiated shrine hall and temple dedicating to Preah Ang Chang-han Hoy while he prayed for victory of the country in return.

A replica of his boat built in year 2007 by Most Ven, Tong Ton, Samanera Tong Teuom, fellow-monks and Buddhist laymen to reserve as the knowledge of culture, history and heritage for Khmer generations.
Even though English in this scripture is not perfect, sense can be made from what it's meant to say. Afterall, my English sucks just as much and so far people have been able to make sense of my blabber. This was my encounter with Reclining Buddha of Wat Preah Ang Chong-han Hoy Temple. Spiritually uplifted, I was ready to leave the temple and face the heat of late afternoon sun.