I have never seen a monkey out in the wild before. My only previous encounters with monkeys were when I was taken to the ZOO by my parents. And I'm not a big fan of the ZOOs because I don't believe in imprisonment of animals for people's entertainment. Captive animals lose many of their natural traits and don't behave the same way they do in the wild. Hence encountering my first monkey that was not caged was a big deal for me. It was so much more shocking in a way because even though my first monkey encounter in Cambodia featured an actual wild monkey, this particular specimen did not act wild at all. This appeared to be an aged monkey and acted like an aged human.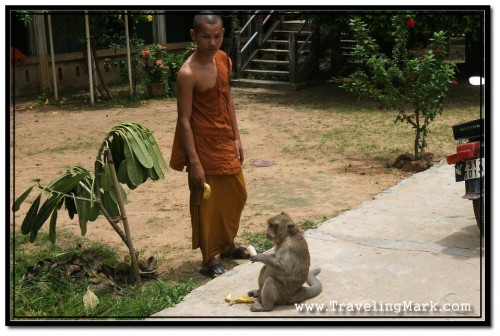 I was still at Wat Damnak temple grounds trying not to get fried by scorching Cambodian sun. The chants from Buddhist gathering at temple's Vihara (prayer hall) could be heard from everywhere because of the loudspeaker broadcast. I was almost done taking inconspicuous pictures when I noticed this young monk standing outside with banana in his hand which he handed to the monkey sitting at his feet. Monkey took it off his hand with his hand and munched on it like they're best buddies. The human like behavior of that monkey was bewildering.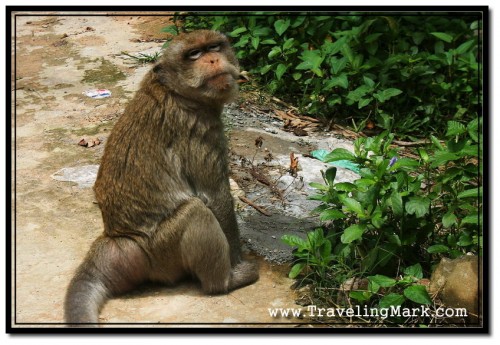 Granted, I only had my wide angle lens on me because extreme heat makes it impossible to carry extra baggage and since I really wanted to take pictures of my first monkey encounter, I had no choice but to walk up to the couple sharing the banana. It was interesting to watch how monkey turned his head the same way any human would. As I got closer and got the camera at the ready, the monkey gave me that look of "what the hell are you taking pictures of me eating for?" My amazement escalated.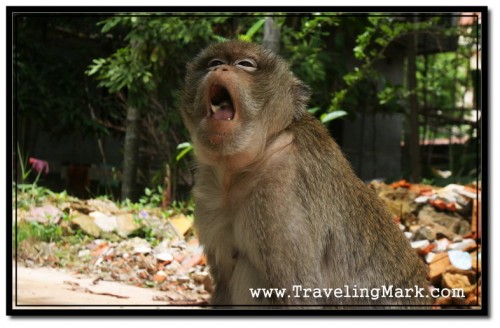 As I was closer, I noticed indescribable dexterity this monkey had in his hands. He had fingers similar to human ones and used them to peel the banana peel off to get to chewy mass inside. When he was done, he simply turned around and started quietly walking away. I swear if he could talk, I would hear him say: "Screw you, man. Staring at me as I'm trying to eat!"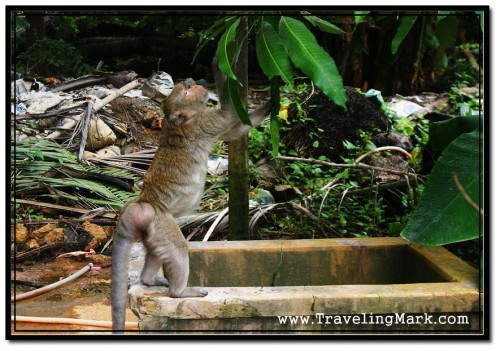 I followed the monkey as I really wanted a picture but in order to get any done, I needed to get really close to him (disadvantage of not carrying around the telephoto lens). His every reaction was identical to a reaction of a human. It simply kept blowing me off my feet. Perhaps it's because we don't have monkeys in Canada where I come from so seeing an animal whose behavior resembles human so closely was astounding to me. I was being rude by shoving my camera in his face and he was moving away from me to let me know that he does not appreciate being photographed at such close range by a guy he's never met before. If there was a human in his place, I'd be getting precisely the same type of response. Are monkeys really this close to humans? Unbelievable! All this time I felt like saying: "You got me man. I almost believed you were a real monkey. Now take off that costume and quit playing one, will you?" But the fact was – there was no masqueraded man inside a costume. This was an actual, real monkey. They are closer to humans in their behavior and perceptions of the surroundings that I had ever realized. Wow!