The premise of child sex tourism is something that has never once in my life crossed my mind. Not once, at least not until I came to Cambodia. From the moment I entered the country to the moment I left it, the billboards plastered all over Cambodia kept reminding me that child sex tourism in Cambodia is a thriving industry enjoyed by many.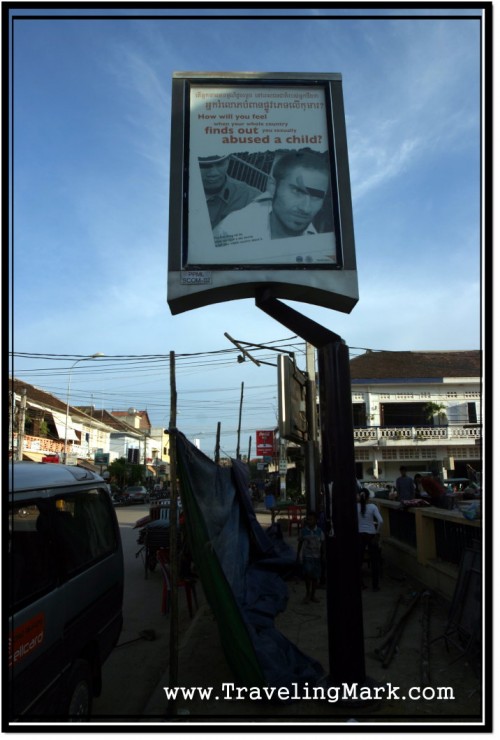 I began to seriously question the true purpose behind the posters which albeit written to sound as a warning to child sex tourists, did instead subconsciously remind everyone that even if it would never ever occur to them to engage in sex with a child, many people travel to Cambodia for that very purpose so perhaps they should consider it to.
I honestly wonder how many of those who came to Cambodia with sole intention to see ancient Angkor ruins, planned their follow up visit after they were reminded by the so called anti-sex-tourism posters that Cambodia is a suitable country for the deviants to exploit children. I wonder how many of those who did end up exploiting Cambodian children would never have done it had the posters not suggested to them that in this country it's possible. Cause if I were to guess, I'd say that most men who exploited Cambodian children did not seek out Cambodia in particular, but found out about the possibility to engage in something like that while they were there.
Drop In The Ocean
Cambodian government is so loud mouthed about targeting child sex tourists it made me question what exactly it was they were trying to achieve? Is targeting foreigners all they care about or do they also give a crap about those poor children? I had to ask this simply because compared to rapes of Cambodian children perpetrated by local men, sexual exploitation of Cambodian children by sex tourists is a drop in the ocean.
But there is no government initiative aimed at eliminating child exploitation by locals. These cases don't even get filed and perpetrators don't get prosecuted. They are free to exploit these children as often as they please and by golly, do they ever… So if the government doesn't give a damn about the wellbeing of children, then what is this war on child sex tourism masquerade all about?
The necessity to target child sex tourists in as urgent and stringent manner as humanly possible has never been more important. The world is far better connected now than it ever was and with travel more affordable than it was in the past, the threat of sick-minded individuals talking advantage of children from impoverished countries is on the rise. It's an issue that can't be put off but could it be that it's also a good excuse to grease a corrupt third world pocket with some western dough?
The sole thought that this could be the case is made even more sickening by the fact that while pockets are being greased, the rate at which children are exploited is not dropping. Their well being simply doesn't appear to be of concern, but it's a good opportunity to make the government known for being the most corrupt in the world look concerned and determined to make a difference in the eyes of the international community.
The Power of Good Press
"Cambodian government is dedicated to fighting child sex tourism" – it has a very good ring to it, doesn't it? To make themselves look like they care about the most vulnerable part of their society could easily make the international community overlook the fact that corruption and human rights abuses are unrivalled in Cambodia. And while the bigger picture and the true problem get lost in the blaze of the child sex tourism fighting glory, the large scale exploitation of Cambodian children by their own kin continues unhindered, but who cares? The government appears to be concerned with children through their self professed war on child sex tourism, so let's praise them for it!
In a perfect scheme of things, by seemingly targeting foreigners who travel to Cambodia to exploit children, Cambodian government makes itself look like they really care. And that gets them funding. They just need to do three things:
Instruct the police so no rape reports perpetrated by locals are filed
Exaggerate the impact of child sex tourism
Present themselves as an impoverished country with no budget to fight it
If there are no statistics to prove high occurrence of rape perpetrated by locals, no one will have a reason to suspect it could be the case. And if anyone got too eager to investigate on it, they would find nothing they could work with. Furthermore, with war against child sex tourism in everyone's face, the focus of independent investigative journalists would be drawn that way cause that's what the international community talks about and that's what causes all the outrage. And so the government has both its own initiative, as well as the international press creating a picture which portrays them as dedicated fighters for the rights of children.
With focus successfully taken off the real issue and put on a miniscule, but upsetting one, the Cambodian government is now seen in good light so if they bring up the fact that they don't have the budget to fight child sex tourism, the international community is likely to come together and provide funding.
Problem From Abroad
Child sex tourism is something that Cambodia is hit with from abroad and that makes it something that countries outside of Cambodian borders are responsible for. That's a pretty good argument to make the international community feel obliged to contribute to the war on child sex tourism. The problem comes from abroad, so let the money to fight it come from abroad too.
Imagine that instead of blaming foreigners for exploitation of children, the Cambodian government would provide truthful rape statistics which would reveal that vast majority of cases involving exploitation of children were perpetrated by Cambodians. Imagine the numbers would clearly indicate that Cambodian government has done nothing over the decades to protect these children in any way.
Would the international community still see the Cambodian government as an entity entirely devoted to protecting the wellbeing of children? Would the international community still feel as obliged to finance the initiative?
Child sex tourists may account for one in a thousand cases of sexual exploitation of children in Cambodia, but targeting them greases the corrupt government pockets, whereas targeting local rapists doesn't. Where does that leave the children? Well, tough luck for them. They continue being exploited on a large scale because it's not really them the government cares about. If they did, perpetrators from friendly neighborhoods would be targeted thousands times as often as child sex tourists are but right now it's the other way around.
All for One, One For All
The child sex tourism issue in Cambodia is a perfect example which explains what I wrote about in the "How Far You Can See Is Determined By How High You Can Fly" article. It is such a serious issue, it deserves utmost attention and immediate action, however unless people who talk about it rise up to see the bigger picture, the sad reality for many Cambodian children will remain unchanged. And unfortunately, I have yet to meet one person who wouldn't be completely dim-witted to see the real problem, so I took upon myself to call it for what it is here.
I care about the real problem. I care about the well being of innocent children. And because it's not heaps of positive press and approval of the sheep that drives me, I don't lower myself to limiting my reporting to merely what delivers said positive press and approval of the sheep. If all I wanted was positive press, then I would do what everybody else does and would write up an extensive post on how awful child sex tourism is and how big a problem it's become in Cambodia. That would get the sheep bleeping in accord with me, but would keep the real problem in the dark and with it, the real children as exploited as ever with no outlook of positive change in their already miserable lives.
Unless someone talks about the real problem and addresses it for what it really is, instead of hiding behind a popular topic of condemning child sex tourism to boost their popularity rankings as an investigative journalist, the horrifying reality for scores of Cambodian children will remain as bleak as ever. They are out there and they are suffering in huge numbers because all the public's outrage targets and draws attention to are child sex tourists, while local rapists whose heinous crimes are done with such severity and frequency they literally make exploitation by foreigners negligent, continue abusing these children unhindered.
Don't get me wrong, I'm in absolute and irrefutable support of bringing child sex tourists to justice but even if we're successful and child sex tourism is put to a complete halt in Cambodia, it will improve little to nothing about the miserable lives of exploited children in Cambodia. Sick foreigners are certainly a problem, but they are not the main problem. They must be targetted, but the initiative should not end with them. Sexual exploitation of Cambodian children by tourists faints in comparison with how much and how often these children get exploited by locals.
All Children deserve a chance at a better life. They all deserve our protection. Let's stop ignoring where the bigger problem is and start calling it for what it is. Take those rose tinted glasses off your nose for once and step outside the bubble. It's our turn to be responsible. Let's support war on child sex tourism, but let's at the same time insist that rapists who exploit children on much higher scale are dealt with at an adequate pace.